Cal Maritime Training Ship Rescues Two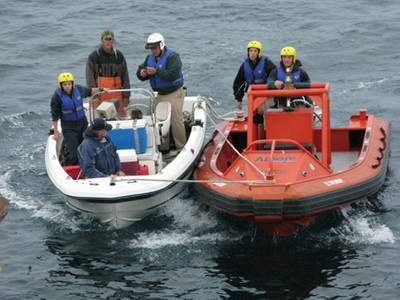 The 's 500-ft. training ship Golden Bear rescued two fishermen Sunday evening, August 17th, approximately 80 miles off the . The two men departed the area earlier that day in an open 17-ft. skiff, equipped with a single outboard engine. They told authorities they were heading for offshore fishing grounds when their engine seized up. They then radioed for help to the U.S. Coast Guard in .
The Golden Bear was approximately 50 miles away at the time, heading northward on the final leg of her annual three-and-a-half-month summer training cruise to ports in the western and southern Pacific. Vessel commander, Captain Paul Leyda, who also heads the school's Department of Marine Transportation, advised the Coast Guard that he was proceeding to the reported location of the boat and increased the Golden Bear's speed. Once located, the Golden Bear launched its rescue boat, skippered by Chief Mate Bill Schmid, officer Mikaela Downs and cadets Hanna Reeves and Sam Thompson.
The two fishermen were transferred to the rescue boat and the disabled craft was towed to the ship and lifted aboard with a fantail crane – supervised by Deck Officer David Coleman and his crew. Golden Bear then resumed its homeward course, arriving in early Monday morning. The rescued fishermen disembarked after arrival. For the crew and the students aboard Golden Bear, the participation in a real-life rescue at sea was a graphic illustration of the importance and value of the training and skills they have been taught, both in classrooms and labs at the school's campus, and during training cruise exercises each summer