St. Johns Ship Building: Small Yard, Big Capability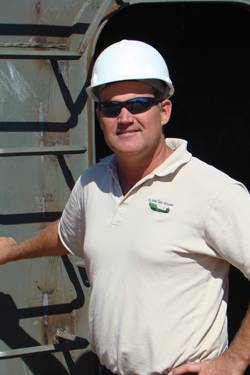 Located along the historic St. Johns River just sixty miles south of Jacksonville, FL is where a true full service shipyard has emerged to accommodate the growing industry needs. In 2006 Steven Ganoe and business partner Michael Grandonico leased – and eventually bought – an existing shipbuilding and repair facility on the St. Johns River (mile marker 31), a facility which was renamed St. Johns Ship Building and today stands as one of the more progressive and technologically capable small shipyards on the U.S. East Coast.
Ganoe is part owner of G&G Shipping, a specialty carrier of goods primarily to the islands and Caribbean from the Florida coast, employing a fleet of 10 versatile shallow-draft landing crafts, vessels which are capable of offloading at most any marina or pier or unimproved coastal site even directly onto the beach.
"This is the yard personnel that we built our fleet with from this North Florida area" Ganoe said. "With our business growing and uncertainty over where we were going to build and service our boats, we invested in this facility. The need for autonomy, or more specifically a dependable facility to build and repair our fleet, became apparent.
Location, Equipment, Experience
Visitors to St. Johns Ship Building – a facility which lies on 98 acres in a picturesque locale – are most immediately struck by how neat and orderly the facility is run and kept, a tribute to general manager and 30-year shipbuilding veteran Bobby Barfield, said Ganoe.
While the initial mission of the yard was to fulfill the needs into structure around our core business, that vision broadened and lengthened, as St. Johns Ship Building has been adept at competing with its fellow shipbuilders on both the East Coast and Gulf Coast, and is extending its capabilities further.
In the four short years that the management team has been involved with the yard, he has helped to take what was a vacant facility and through planning and investment created a diverse and capable shipbuilding and repair facility. Investment in the yard has been steady, boosted most recently by $2.4m in U.S. federal government 'stimulus' funding. The company operates several state-of-the-art machines including two CNC plasma cutting machines, brake press, plate sheer, and will soon welcome the addition of a family of steel processing equipment, including a new Wheelabrator plate system, as well as the machinery to shape and cut steel to most any specification, a move which St. Johns envisions as fulfilling the material processing needs for ship building as well as other industry customers.
"A year after we opened (in 2007), material allocation was a challenge," said Barfield, just getting the material (steel) in was a problem, but they wouldn't even lock into a price until the material was in the shipyard. We see the investment in steel processing, cutting an shaping as helping to smooth out some of the time delayes in building new construction."
St. JOHNS investment doesn't revolve solely around its equipment, it realizes the value of individuals and their contribution to the process and profitability of the yard. "Today we have about 65 workers in the yard, led by Mr. Barfield, the general manager. Our local pool of labor is deep, and if the needs increase we would not hesitate to take on additional workers, however, the experience and efficiency of the current 65 personal "is like having 90 or 100 people", said Barfield.
The company is also investing in client amenities, a rarity today, such as; dockage, WI-FI, covered and storage.The nature of the business often mandates that owner's representatives are stationed in Palatka for weeks, sometime months, to see its project through. To help defray some of the costs of housing this transient staff, the yard is utilizing land for on-site housing to accommodate and reduce the associated cost and logistical hassles – from travel time to laundry to meals. "We see this as just another factor to help build those long-term relationships," said Ganoe.
Strengthening the U.S. Flag
"It has actually been pretty steady the last year or two … anytime I look out there, there is always something in the drydocks." He counts the location and the favorable weather conditions, as strong and cost-effective labor force, and a growing portfolio of the industry's most advanced tooling and machinery as key factors in the business' continued growth.
The shipyards recent 190-ft. vessels ordered by G&G are all built to ABS class, and operate just under the 500-ton threshold, but are still capable of transporting 600 tons with an on-deck loading area of 6,400 sq. ft., capable of Ro-Ro cargo in addition to heavy lift or stacking of containers.
St. Johns Ship Building in Brief
Location St. Johns River, Palatka, FL (Mile Marker 31, 60 miles south of Jacksonville)
Access The St. Johns, River is easily accessible for vessels coming north along the Intracoastal Waterway, from the Atlantic Ocean or Jacksonville.
Facilities (98 acres) Conveniently located near Orlando, Gainsville, St.Augustine and Jacksonville.
Description A full service ship building and marine repair company specializing in steel and aluminum vessel new construction.
Opened Early 1970s (re-opened under private ownership 2006)
Capabilities Build, refit and repair of vessels.
Fabrication shop 425 X 70-ft. complete fabrication shop, machine shop, carpentry shop, and electrical shop
Wet Dock 1800 ft.
Dry Dock 1100-ton
Crane capacity 160 tons
Max. employees 300 full time
Bulkhead waterfront 2600 ft.
Launch basin 400 ft.
Capable to Build Steel and Aluminum Vessels
Self-Propelled Barges
Landing Crafts
OSVs
Deck Barges (to 450 ft.)
Inland Push Boats
Oceangoing Tugs
Tank Barges (to 40,000 barrels)
(Courtesy of the November 2010 edition of Maritime Reporter & Engineering News)