New LNG Carrier for Ichthys LNG Project Named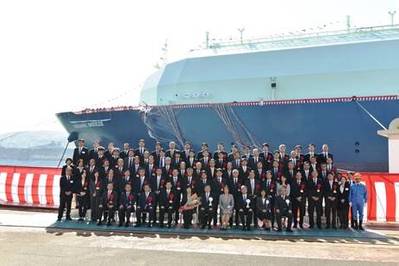 A new vessel built for carrying liquefied natural gas (LNG) from the Ichthys LNG Project in Darwin, Australia to Naoetsu, Niigata has been named at the Mitsubishi Heavy Industries, Ltd. (MHI) Nagasaki Shipyard.
The LNG carrier was named Oceanic Breeze by Toshiaki Kitamura, President of INPEX Corporation (INPEX), whose fully owned subsidiary INPEX Shipping Co., Ltd. will time-charter the ship.
Oceanic Breeze, owned by Oceanic Breeze LNG Transport S.A. (OBLT), a 30/70 joint venture between Inpex Shipping and Kawasaki Kisen Kaisha, Ltd. ("K" Line), is the second vessel that will be chartered by INPEX to transport Ichthys-produced LNG following the Pacific Breeze, named in September.
Oceanic Breeze will transport approximately 0.9 million tons of LNG per year produced by the INPEX-operated Ichthys LNG Project to INPEX's Naoetsu LNG Terminal in Joetsu, Niigata Prefecture, Japan.
Designed by MHI, the vessel is a member of the builder's "sayaendo" (peapod) class LNG tankers. Oceanic Breeze has a 155,300-cubic meter tank capacity and features MOSS-type spherical tanks are shielded by an outer cover integrated with the hull, which helps to strengthen the tanker's overall structure, reduce weight and cut down on resistance from wind pressure during operations.
The tanker is also equipped with a new type of steam turbine propulsion unit that uses reheated steam to power the main engine, slashing fuel consumption.
Owner: Oceanic Breeze LNG Transport S.A.
Charterer: INPEX SHIPPING CO., LTD.
Shipyard: Mitsubishi Heavy Industries, Ltd. (Nagasaki Shipyard)
LOA: abt. 288m
Beam: abt. 49m
Tank Type / Tank Capacity: Moss / abt.155,300m3
Propulsion System: Ultra Steam Turbine