LNG 'Pea Pod' Carrier Order for MHI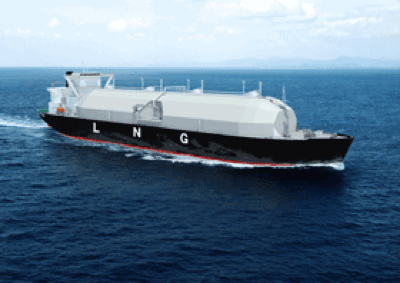 Mitsubishi Heavy Industries to build a 7th pea-pod superstructure shape "Sayaendo" LNG carrier for a "K" Line/INPEX subsidiary joint venture.
Sayaendo series ships feature a unique structure that integrates the LNG tank cover with the ship hull, resulting in significantly improved fuel consumption and maintainability. The order was placed with MHI by Ocean Breeze LNG Transport, Ltd. (OBLT), a joint venture between Kawasaki Kisen Kaisha, Ltd. ("K" Line) and a subsidiary of INPEX.

The ship is scheduled to be delivered to OBLT at the end of 2016. This order is the seventh that MHI has received for a Sayaendo series ship, and follows closely on the heels of another such order that was received last month.

The new LNG carrier will measure 288.0m in length overall (LOA), 48.94m in width, and 11.55m in draft. The 138,000 gross tonnage (75,000 deadweight tonnage) ship will be capable of carrying up to 153,000 m3 of LNG (cargo tank total volume: 155,300m3) in four Moss-type tanks at a service speed of 19.5 knots per hour. The ship will be built at the MHI Nagasaki Shipyard and Machinery Works.



To protect its four Moss spherical tanks, the Sayaendo features a peapod-shaped continuous cover integrated with the ship's hull in lieu of conventional hemispherical covers. This innovative configuration enables reductions in size and weight while maintaining the ship's overall structural rigidity. The continuous cover over the tanks also improves aerodynamics by substantially reducing air resistance that acts as a drag on ship propulsion. For its main power plant the Sayaendo adopts MHI's "Ultra Steam Turbine Plant" (UST), a new turbine that provides higher thermal efficiency through effective use of thermal energy by reheating steam. Through downsizing, weight reduction and hull line improvement, Sayaendo ships achieve a substantial 20% reduction in fuel consumption compared to conventional ships.



With a conventional cover configuration, pipes, wires and catwalks atop the tanks are supported by complex structures. By covering the tanks with an integrated cover and making those supporting structures unnecessary, the new design also improves maintainability. In addition, CO2 emissions are reduced as a result of decreased fuel consumption, and response to environmental issues is further enhanced with installation of a ballast water treatment system, which addresses impact on the marine ecosystem.