Færgen Takes Delivery of Austal's Largest Catamaran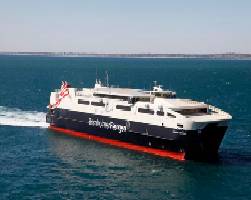 Austal's largest catamaran built to date, the 113 metre "Leonora Christina", was recently handed over to her owners, marking completion of construction of the high speed vehicle-passenger ferry at Austal's Henderson shipyard.

"Leonora Christina" was constructed for Danish company Færgen (formerly Nordic Ferry Services) and is due to depart Austal's Henderson shipyard for Denmark this week, where it will be operated by Bornholmer Færgen, a subsidiary of Færgen.

"Leonora Christina" will join the 86 metre Austal-built catamaran, "Villum Clausen", which has been transporting vehicles and passengers between Ronne on the Danish island of Bornholm and Ystad in south east Sweden since 2000.

Senior Captain Soren Schow, of Bornholmer Færgen, will command the 22 day voyage from Western Australia to Denmark along with a crew of 12, and has commented that he looks forward to "Leonora Christina" commencing operations in mid-June 2011.

"Having spent a significant amount of time at Austal during the construction of "Leonora Christina", I am confident that this vessel will perform well and exceed the expectations of the Bornholm public."

"After participating in recent sea trials, I am satisfied that "Leonora Christina" has fulfilled its speed requirements, while its proven seakeeping capabilities will ensure maximum passenger comfort throughout the 90 minute journey from Bornholm to Ystad," said Senior Captain Schow.

Austal Chief Executive Officer, Andrew Bellamy, congratulated employees at Austal's Henderson shipyard on the completion of "Leonora Christina", commenting that the vessel will soon be the pride of Bornholmer Færgen's fleet.

Vessel Review

Austal was awarded the contract to build "Leonora Christina" in April 2009, following a competitive international tender process which saw Austal utilise its in-house design team and experience to develop a highly customised vessel design that met all of Færgen's requirements for the route. "Leonora Christina" has also been built to comply with stringent Danish regulations, covering environmental noise, wave-wash and exhaust emissions, as well as ergonomic working arrangements for the crew and strict fire and safety standards.

Austal's proven design experience enabled the 113m "Leonora Christina" to be customised to fit Bornholmer Færgen's existing high speed ferry berths, which it will share with the smaller "Villum Clausen". This resulted in significant savings for the operator, as only minimal modifications were needed to be made to the ports of Ronne and Ystad.

"Leonora Christina" maintains the tradition for high standard ferry services offered by Scandinavian operators in general and Bornholmer Færgen in particular, not only in terms of performance, but also with regard to safety, comfort and quality of finish.

Seating for the vessel's 1,400 passengers is spread over the upper and bridge decks. Ample room and luxury fittings are evident throughout the vessel's refined, high quality interior, which reflects contemporary Scandinavian design aesthetics. Natural lighting and timber finishing deliver a feeling of light and space throughout the vessel, with large skylights located in the vessel's atrium completing the look.

High levels of passenger comfort are ensured with a range of fixed and adjustable Beurteaux seating throughout the vessel in a variety of complementary colours. The main passenger facilities on board "Leonora Christina" are located on the upper deck, which is split into several distinctive lounge areas along its length, each featuring its own style of seating, colour scheme and facilities as well as extensive use of glass to ensure a sea view for all. LCD TV screens are located throughout all passenger areas, with a screen visible from every seat in the interior of the vessel.

Bornholmer Færgen is particularly renowned for its high quality food and beverage service, and the facilities on "Leonora Christina" will assist the crew to exceed expectations not only in food quality but efficiency of delivery. The large galley features ergonomically adjustable bench heights and extensive food storage and preparation services, along with a raft of features to enable rapid replenishment during the vessel's short time in port.

The design and layout of the food servery is unique to Bornholmer Færgen, with Austal's design team working to ensure maximum efficiency and flow of people through food service areas. Adjacent to the servery is the shop, which features the same high quality finishes found throughout the vessel. Tables and chairs border both sides of the servery, allowing passengers to enjoy their meals whilst taking in the panoramic ocean views. A separate bar and café facility towards the bow of the vessel is also available to serve drinks and snacks throughout the duration of the voyage.

A must on every ferry is a children's play area and "Leonora Christina" is no exception. Located in the upper passenger deck near the atrium, the playroom is one of the brightest areas of the vessel and features a 42 inch flat screen TV with DVD and surround sound capabilities.

"Leonora Christina" has also been designed to allow maximum wheelchair accessibility, with two lifts allowing disabled access from the vehicle to the passenger decks, together with designated wheelchair seating locations in the forward lounge in close proximity to the cafe.

The vessel's wheelhouse contains ergonomically designed navigation and control stations for the Captain and Navigator as well as a fully integrated monitoring and control system featuring Austal's Marine Link system which provides the Ship's Engineers with the ability to monitor and control the vessels safety, propulsion, generating and other operationally critical systems. The wheelhouse extends across the full width of the vessel and provides the crew with maximum visibility, while fully equipped bridge wings on both the port and starboard sides enable safe docking of the vessel in the confined ports of Ronne and Ystad, especially in winter fog, snow and other adverse conditions. A fully equipped crew mess, and multiple crew storage areas add to the comfort and functionality of the vessel.

The vessel's three vehicle decks offer a total capacity of 300 truck lane metres, or a maximum of 357 cars, which are accessible via both bow and stern ramps, ensuring efficient 'drive through' loading and unloading of the vessel, thereby keeping turnaround times to a minimum. The fitting of hoistable vehicle decks provides Bornholmer Færgen with the flexibility to carry a mix of cars and freight. Lightweight structural fire protection, zoned sprinkler systems and hydrants ensures optimal fire safety during vehicle transport.

With the ability to operate at speeds of up to 40 knots, "Leonora Christina" is powered by four MAN 20V28/33D engines, each capable of producing a maximum continuous output of 9100 kW and driving Rolls Royce KaMeWa 125 SIII waterjets.
Source: Austal