Catherwood Towing's New Imp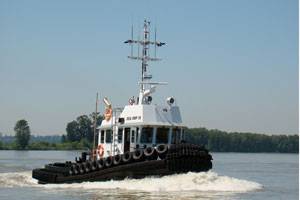 Catherwood Towing operates a fleet of tugs on the Fraser River in British Columbia, Canada. Owner Ernie Catherwood has built the fleet over the years and has recently been repowering with Cummins engines.

In the spring of 2009 Ernie Catherwood took delivery of his first new-build with Cummins KTA19 main engines from Sylte Shipyard Ltd. The Sea Imp IX is 53.6 ft overall with a hefty 22 ft beam and a 9.75 ft draft. As were several of the boats already in the fleet, the new boat was built to a design by West Vancouver based A. G. MiIlwain who understands the demands of a yarding tug that will be required to do some coast wide work as well. With fuel tanks for 45,000 litres of fuel the boat has the range for longer tows along the BC coast. With that in mind it has accommodation for four crew members. As is the practice for tugs working around log booms, the new boat will have channel iron guards covering the exterior of the hull to protect the tug when working against heavy logs.