CD-adapco Helped Winning America's Cup Boat to Fly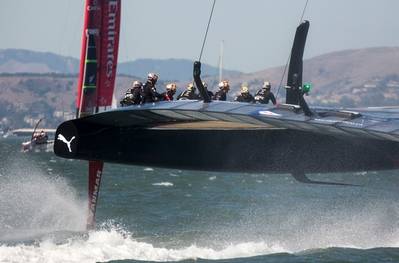 Winners, ORACLE TEAM USA used CD-adapco CFD software STAR-CCM+ throughout the development process of their boat to refine the hydrodynamic and aerodynamic performance of their AC72 catamarans. Speeds in excess of 40 knots were achieved.

Unlike previous contests, a loop-hole in the rules for the 34th edition for the world's oldest international sporting trophy allowed the wing masted catamarans to "foil" (sailing parlance for hydrofoiling) in which they literally fly on downwind sections, with both hulls above the water, supported by only slender rudders and dagger boards, achieving speeds of over 40 knots (46mph), providing both hydrodynamic and aerodynamic challenges for the design team.

The contest hinged on the design modifications made by ORACLE TEAM USA after going 8-1 down in the contest that led to them taking eight consecutive victories to win the first-to-nine contest. ORACLE TEAM USA's Head of CFD, Mario Caponnetto, who together with Francis Hueber and Michele Stroligo performed all of the CFD simulations of the AC72, confirmed that STAR-CCM+ played a critical role in simulating these race winning modifications:

"It was really hard and until the very last day we used STAR-CCM+ to improve the speed of the boat," said Caponnetto. "It worked! Once again, we managed to win the America's Cup! I wanted to thank CD-adapco, on behalf of all the team, for the invaluable help that you gave us during these years. I hope the future will give us other rewards like this one."