Houston Ship Channel Celebrates 100 years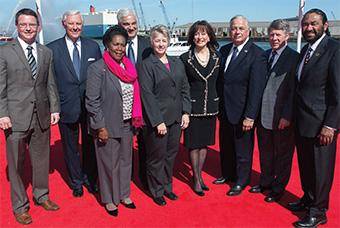 A host of dignitaries gathered November 10 to celebrate the 100th anniversary of the Houston Ship Channel. During the ceremony, Port Commission Chairman Janiece Longoria lauded early leaders and their vision for the Port of Houston.

Hundreds of guests, including elected officials, members of the International Longshoremen's Association, Houston Pilots, U.S. Army Corps of Engineers, current and former Port Commissioners, industry stakeholders and others, attended the event at Brady's Landing, overlooking the Houston Ship Channel.

The original dedication took place on Nov. 10, 1914, when President Woodrow Wilson fired a cannon by remote control from his office in Washington D.C. For the rededication, on the same date 100 years later, a cannon provided by the Sons of the Republic of Texas fired, signaling the promise of another century of prosperity.

During the event, U.S. Representative Sheila Jackson Lee presented a flag that flew over the U.S. Capitol in honor of the occasion. Texas State Senator Sylvia Garcia presented a resolution in recognition of the Centennial.