GL's 'FutureShip' Arm Clicks 1,000th SEEMP Certificate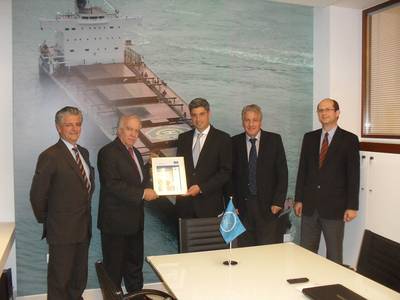 In Athens, Greece, FutureShip GmbH presents EFNAV COMPANY LTD (EFNAV) with a milestone SEEMP certificate .

Getting ready to comply with the incoming requirement to implement a Ship Energy Efficiency Management Plan (SEEMP) is at the top of the agenda of ship owners and operators. To help them to meet the challenge of improving vessel fuel efficiency to meet this incoming regulation, while increasing cost competitiveness, FutureShip GmbH, the maritime consulting arm of classification society Germanischer Lloyd (GL), has developed its SEEMP Solution.

The FutureShip SEEMP Solution is designed as a template based form that allows the Energy Manager of a shipping company to select measures appropriate to their business and convert these into vessel specific SEEMPs. Every single SEEMP is checked by FutureShip personnel to minimize the chance of error. The SEEMP Solution comes with a vessel specific EEOI calculator for every vessel of a fleet.

The SEEMP was adopted by the IMO in an effort to spur innovation and reduce CO2 emissions and is now a part of MARPOL Annex VI. The SEEMP is mandatory for all sea going ships (both new and existing ships) larger than 400 GT from 1 January 2013.

Envisioned as a management tool to assist a company in improving energy efficiency of ships in operation, a SEEMP must be specific for each ship in a fleet and should be used together with established environmental management systems. A SEEMP allows companies to reduce fuel consumption through simple operational measures and making investments that can improve performance and pay off in reduced costs.

The SEEMP as a cyclic process with 4 steps in each cycle: Planning, Implementation, Monitoring, Self-Evaluation & Improvement. Selected measures with goals to be achieved are at the core of a SEEMP, this enables continuous improvement through lessons learned. The measures could involve different aspects of ship operation: fuel efficient operations, improved voyage planning, optimise ship handling, fleet management, and cargo handling.

The FutureShip SEEMP Solution is currently available in Russian, English and Spanish language to complement requirements that SEEMP should be established in a working language or languages understood by ship's personnel. Other Languages are available upon request.

In the picture ((from left to right): Mr Aristidis Efstathiou, GL Business Development Manager Area Southern Europe, Mr Athanasios Reisopoulos, GL Area Manager for Southern Europe, Mr Philippos Efstathiou, Owner of EFNAV, Mr Pantelis Chondros, Technical Manager of EFNAV, Mr. Stefanos Betsikas, Operations Manager of EFNAV.