Deepsea Challenger a Hit in Navy Museum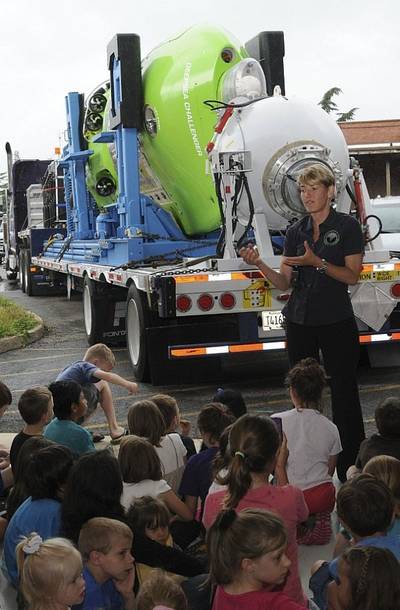 The record-breaking manned submersible was brought to the Navy Yard to be with the Trieste, which is housed in the National Museum of the United States Navy.

The Navy museum says that a large number of school children stop by to see Deepsea Challenger, a submarine designed by James Cameron, Academy Award-winning film director and diver, and Ron Allum, Deepsea Challenger pilot. The craft was built to explore the Marianas Trench's deepest point of "Challenger Deep". In March of 2012, Cameron, diving solo in Deepsea Challenger, replicated the U.S. Navy's Bathyscaphe Trieste's 1960 dive of nearly 11 kilometers (7 miles) into Challenger Deep.


The submersible, due to advances in technology, measures less than a third the size of the Bathyscaphe. The submarine descended in less time, was able to record footage of the dive, and was able to stay at the bottom of the trench for more than three hours - six times the amount of time logged by the original explorers.
Speaking about the two historic sumbersibles, Christina Symons (PhD), geologist, Cameron's expedition, said: "We wanted them to both to be at the same place at the same time, we couldn't pass up that opportunity.