USS Charleston (LCS 18) Christened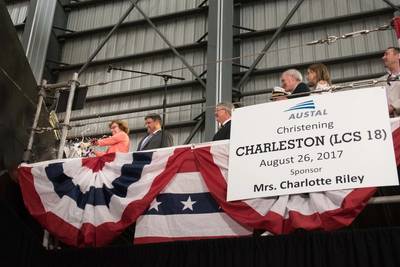 A christening ceremony was held for the U.S. Navy's 18th Littoral Combat Ship (LCS), the future USS Charleston (LCS 18), at Austal USA's Mobil, Ala. shipyard on August 26.
"Today marks another major milestone with the christening of this remarkable war ship," said
Austal USA President
,
Craig Perciavalle
. "Our talented shipbuilding team is honored to provide our Navy with an extraordinarily capable vessel that will honor the great city of Charleston as she operates around the world."
The ship's sponsor, Charlotte Riley, headlined the group of officials, naval guests – including the Honorable Richard V. Spencer, Secretary of the Navy -, civic leaders, community members and Austal employees who attended the ceremony in Austal's final assembly bay. She moved to Charleston in 1965 where she met her husband, Joseph P. Riley, Jr., who led the city of Charleston for 40 years beginning in 1975 when he was first elected Mayor."
Riley has been active community volunteer for many years. She began in the Junior League of Charleston and served as a tutor in remedial reading for a school for troubled boys, serving on their board for a number of years. She also served on the Big Brothers Big Sisters board, as well as the board for Charleston's homeless shelter. As a volunteer for her church, Riley supported Meals on Wheels and presently serves on their altar guild.
The future USS Charleston will be the sixth ship to be named for Charleston, the oldest and second-largest city in South Carolina. It is the seventh of 12 LCS vessels Austal has under contract with the U.S. Navy. The total order value is over $3.5 billion.
The LCS program is at full rate production delivering two ships a year and with seven ships currently under construction at Austal USA. Omaha (LCS 12) will be delivered in the coming weeks; Manchester (LCS 14) is preparing for trials and Tulsa (LCS 16) will begin trials at the end of the year. Final assembly is well underway on Cincinnati (LCS 20). Modules for Kansas City (LCS 22) and Oakland (LCS 24) are under construction in Austal's module manufacturing facility.
Austal USA has delivered eight Spearhead-class EPFs that are serving as an affordable solution to fulfilling the Military Sealift Command's requirements worldwide. Three additional EPFs are under construction at Austal's Mobile, Ala. shipyard.