Christmas 'Angel Tree' Gifts Donated by HII Employees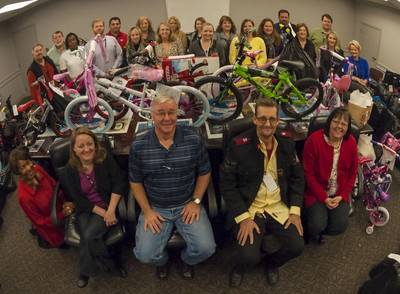 Employees from Huntington Ingalls Industries' Ingalls Shipbuilding division teamed up to provide holiday gifts for 145 children as part of the Salvation Army's Angel Tree program.

HII explains that the Salvation Army's Angel Tree program matches donors with children from qualified families unable to provide gifts and clothing for their children during the holidays. The Salvation Army provides a wish list for each angel. This year there were more than 1,500 angels to be adopted. Adopters of the angels purchase all or as many items from the wish list as possible. The angels vary in ages, and most gifts are items like clothes, jackets, electronic games and bicycles.

"It's humbling to see the constant outpouring of volunteer service and giving from Ingalls' employees," said Edmond Hughes, Ingalls' vice president of human resources and administration. "The Salvation Army's Angel Tree program provided gifts for more than 1,500 children this year, and our shipbuilders helped play a part in making sure these kids have a great holiday season. In fact, some of our employees went above and beyond what is required and purchased extra gifts."

In addition, Ingalls donated $1,500 to help with the remaining angels who were not adopted, with $500 of that raised by the company's electrical department.

"Without our Jackson County community and companies like Ingalls, we could not do what we do for these families," said Capt. Jenny Bailey, Jackson County Salvation Army Officer. "This is no small feat. Each angel receives at least $75 worth of merchandise, and because of Ingalls' help, these families are going to be fully blessed this Christmas. We appreciate it so much."