CMA CGM Boxship for French West Indies Christened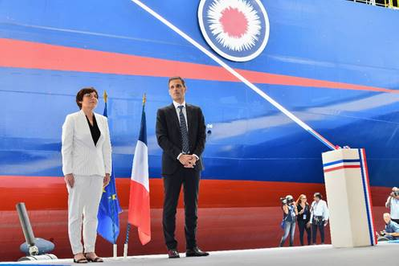 CMA CGM Group announced that the CMA CGM Fort de France, the first vessel belonging to its new fleet dedicated to the French West Indies, was christened on April 4th, 2019 in Martinique by Mrs. Annick Girardin, French Minister for Overseas Territories.
This inauguration took place in the presence of Rodolphe Saadé, Chairman and Chief Executive Officer of the CMA CGM Group, Tanya Saadé Zeenny, Executive Officer, Alfred Marie-Jeanne, Chairman of the Executive Council of the Martinique Regional Authority, Didier Laguerre, Mayor of Fort-de-France, elected officials as well as company directors and clients of the CMA CGM Group.
The CMA CGM Fort de France, symbol of the bond between the CMA CGM Group and the French West Indies. The CMA CGM Fort de France is a 3,504-TEU (Twenty-Foot Equivalent Units) vessel that was delivered on January 10th, 2019. It is 219 meters long and 35.6 meters wide. This is the first of a series of four container ships named after French West Indian forts and flying the French flag. It will be followed in the coming months by the CMA CGM Fort Royal, the CMA CGM Fort Saint Charles and the CMA CGM Fort Fleur D'Epee.
In the French West Indies, the Group operates 7 maritime services connecting these islands to Northern Europe, the Mediterranean, the Caribbean, and Central and South America. In Guadeloupe and Martinique, CMA CGM employs 220 employees and 325 dockworkers.
By modernizing its fleet dedicated to the French West Indies, CMA CGM is significantly increasing its service to these territories while maintaining its quality, its reliability and its regularity.