Cargo Ship Collides with Barge in Corpus Christi Harbor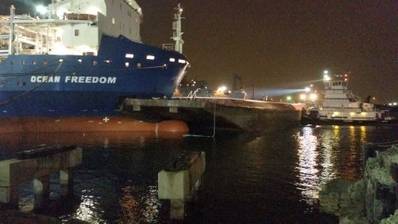 An allision between a 480-foot cargo ship and barge occurred Thursday night in the Corpus Christi Inner Harbor. The
U.S. Coast Guard
and state and local partners are responding.
The Coast Guard launched a Station Port Aransas 45-foot response boat and crew after receiving a call reporting the allision between the U.S.-flagged bulk carrier Ocean Freedom owned by Intermarine and a moored barge owned by Kirby Inland Marine at 10:30 p.m. Thursday.
A man from the scene went to Christus Spohn Hospital Corpus Christi-Shoreline due to possible knee injury, the Coast guard said.
At the time of the allision, the barge was not loaded and the cargo ship was carrying steel. No pollution has been reported.
The Coast guard said a marine investigator, marine inspector and pollution responder crews are also on scene.
The cause of the incident is under investigation.