USS Sterett Commissioned in Special Ceremony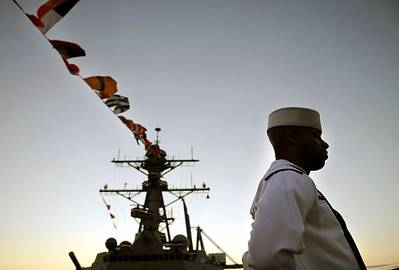 By Mass Communication Specialist Seaman Patrick Grieco
The U.S. Navy's commissioned the latest guided-missile destroyer USS Sterett (DDG 104) at 's Locust Point Cruise terminals Aug. 9 - the fourth time in naval history that a ship bears this name. The ship can now directly support the Navy's effort to execute the maritime strategy.
During the ceremony, Greg Sterett, a descendant of the ship's namesake Lt. Andrew Sterett, was dressed in a colonial naval uniform, and left the 19th century warship USS Constellation, normally anchored in 's , to board the modern warship. He brought with him not just his family name, but the spirit of his ancestor.
The ceremony included speeches by Secretary of the Navy Donald C. Winter, Gov. Martin O'Malley and U.S. Sen. Barbara Mikulski.
Eckerle said the ship's motto, "Forever Dauntless," is in honor of the third Sterett vessel, a Vietnam-era cruiser (CG 31).
Sterett is technogically advanced warship, with several structural and electronic upgrades. One of the upgrades is a direct response to lessons learned from the attack on the guided-missile destroyer USS Cole (DDG 67).
Sterett was built by Bath Iron Works Dynamics Company and is 509.5 feet long and has a waterline beam of 59 feet. Four gas turbine engines power the ship to speeds in excess of 30 knots.