Interschalt Offers Navigation, Communication Service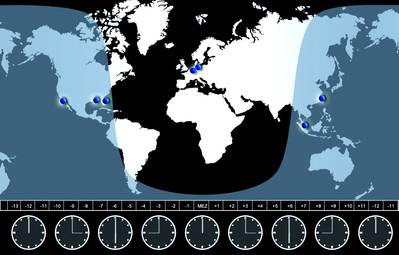 The shipping software and service provider, Interschalt maritime systems AG, has developed a highly customer-focused concept for the maintenance of navigation and communications systems on board, called InterschaltShore-based Maintenance (IS-SBM). For an annual flat-rate fee, the maintenance concept, which is individually tailored to each customer, is a complete service package which includes coordination, annual performance tests, replacement parts, labor time and travel costs. It simplifies and reduces administrative tasks for shipping companies and provides budget security. Detailed reporting of accrued costs for services and materials for each ship ensures transparency.

Over the last three years, Interschalt has successfully positioned the smart service concept in the marketplace and is now expanding the range of services due to increasing demand.

Customized service concept
Shore-based Maintenance (SBM), in Interschalt terms, is a tiered, customized service plan, ranging from annual performance tests to full service contracts. It covers much more than the original definition provided by the IMO and SOLAS, in which maintenance referred only to the annual checking of GMDSS systems. The Interschalt SBM package, however, covers all of the customer's specific requirements: "Our service staff analyze the ship's equipment lists or, if requested, conduct a thorough inspection on board in which maintenance statuses and any defects are ascertained", says Interschalt CEO Robert Gärtner on the customized service concept. "We concentrate on the communications and navigation systems and undertake full service management of maintenance, repair work and the procurement of parts as well as functional tests, for example the Annual Performance Test (APT) of the Voyage Data Recorder". The customer is also given their own contact person within IS Service Coordination. 40 employees in IS Service Coordination, who are always reachable in accordance with the 24/7 principle, coordinate the service orders which are registered by a ticket and database system.

Strong demand for Shore-based Maintenance
The center currently receives approx. 4,100 service calls per annum. From there, the deployment of the company's own service staff and certified partners (in total over 400 service technicians) is coordinated and documented. A proven "First Time Fix" rate of over 98% is evidence of the high service quality. Continuous work ensures that ships retain their value and qualified recommendations for preventive measures (retrofit) also lead to cost reductions. Central coordination also ensures that surveys are carried out on schedule. The fact that the measures are bundled together means that maintenance costs are reduced, ships retain their value and costly off-hire times are avoided.

Extensive reporting covers all costs for service and materials for each ship every year. Based on this data, the shipping company can ascertain a ship's status within the fleet and draw cost comparisons between sister ships and ship series. Transparent and calculable costs lead to budget security.

Shipping companies' administrative procedures are simplified and reduced.