Maritime Community Majalis Opened in Dubai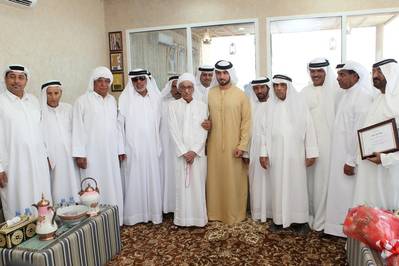 Special Majlis (traditional meeting place) at Jadaf to serve the maritime community opened by Majid Bin Mohammed.
The Majlis constitutes amenities and large meeting spaces including a prayer hall and is situated in a serene location close to Dubai Creek. Jadaf constitutes a cluster of nearly 300 maritime and relevant companies representing wide ranging businesses within the industry and is one of the oldest such maritime communities working in the region.
Drydocks World and Maritime World, the leading maritime service providers in the Middle East region, recently announced the inauguration of a special 'Majlis' or a traditional meeting place by His Highness Sheikh Majid Bin Mohammed Bin Rashid Al Maktoum, Chairman of Dubai Culture and Arts Authority. The Majlis will help the maritime community to express and to ventilate their views on pressing issues before the industry and to aid in networking among the vast number of companies representing diverse sections of the industry.
His Highness Sheikh Majid bin Mohammed bin Rashid Al Maktoum inaugurated the Majlis at Jadaf shipyard, which is one of institutions that represented the longstanding maritime heritage of the country. The event was organised in the presence of leading figures and prominent people from the industry. His Highness awarded certificates of gratitude and appreciation to Obaid bin Juma bin Salloum for his substantial role in supporting the project and to Dubai Municipality for landscaping and afforestation and cleaning the area of Jadaf Dubai; Hassan Ali Hassan Musabeh Al Shamsi, Director, Technical Department for his untiring efforts in the timely completion of the project.

"The maritime industry in the region is evolving at a rapid pace due to technological advances and due to the ever expanding knowledge base within the industry. We seek to provide an opportunity, especially to the conventional and well-established companies within Jadaf to engage with each other so as to build bridges, strengthen relationships and share knowledge and expertise, which will ultimately benefit the industry at large," said Khamis Juma Buamim, Chairman of Drydocks World and Maritime World. The necessity of a Majlis was raised at a preliminary meeting Mr. Buamim had with industry personnel based in Jadaf soon after he joined and this has been implemented successfully.