Totem ECDIS Now AIO Compatible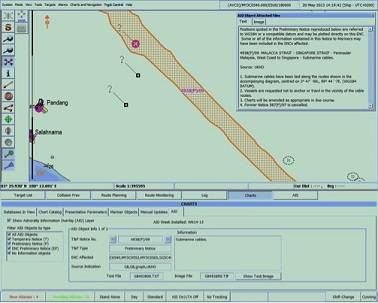 Totem Plus, manufacturer of Automation and Navigation systems, announced that Totem ECDIS is now compatible with the ADMIRALTY Information Overlay (AIO).

Type approved by DNV, Totem ECDIS provides real-world innovation to the customer. It was the world's first ECDIS to provide Collision Avoidance in the form of Decision Support Tools; it initiated the 'Shift Change' procedure to avoid ECDIS-assisted accidents; and is now also compatible with AIO, provided by the United Kingdom Hydrographic Office (UKHO).

AIO is a free service to ADMIRALTY Vector Chart Service (AVCS) customers and the only service available that includes worldwide Admiralty Temporary and Preliminary Notices to Mariners (T&P NMs) and new ENC Preliminary Notices to Mariners (EPNMs). AIO is also the only service to include the results of the ADMIRALTY Assurance Programme, which is a comprehensive review of the world's Electronic Navigational Charts (ENCs) being undertaken by the UKHO to identify and resolve significant differences between ENCs and existing paper charts.

Mariners around the world rely on ADMIRALTY updates to help them navigate safely via the weekly 'Notices to Mariners' publication, which is used to manually update paper charts with navigationally significant information. The AIO does this vital job automatically, displaying the same trusted information directly over the ENC in order to make voyage planning more efficient and reduce the risk of plotting errors. It also plays an important role in helping mariners to demonstrate how they manage their T&P NM information if required during Port State Control inspections.

Within the Totem ECDIS the AIO display is a Mariner selectable feature that can be easily switched on and off. When passage planning and route checking the AIO is used to ensure the Mariner has all the latest information when needed most and that there are no unforeseen dangers on the intended route. If there is an AIO object of interest this can simply be transferred to the ECDIS in monitoring mode via the use of a Mariners object. This process removes the necessity to turn on the whole AIO display when critical navigation is underway.

Totem Plus will also continue with its free upgrade policy and users are welcome to get the required software patch that includes the AIO module.