MarineTech Underwater Robot Competitions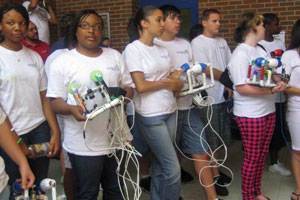 Dr. Alok Verma, Director of Lean Institute at Old Dominion University organized two underwater robotics competitions under a project called MarineTech funded by the State Council of Higher Education of Virginia (SCHEV). On the morning of July 11, 2009, around 60 people, including students and their parents, gathered at Maury High School for the Sea Perch underwater robot competition.

During the spring semester, students built Sea Perch robots with the help of their teachers for this competition. Nine teams participated in the competition. A similar competition was conducted on June 27 in Norfolk, Virginia for Hampton Roads and Central Virginia students. Each team had to take their robots through a 'U' course, which included narrow channels and underwater barriers. After navigating through channels and barriers, the students had to catch a floating ball and drop it into a goal area. Each team was judged on the basis of time taken to complete the path, aesthetics of robot, team work, quality of construction, ball collection and successful touchdown.

Out of 9 teams, the robot named "Po-Po's" built by Christopher Banks and Chris Watford placed first. Robot team "Glory" including Raven Dillard placed 2nd and robot team "On Construction" including Eric Whitney and Camille Foreman placed third. During the prize distribution ceremony, Dr. Alok Verma congratulated the winners and also explained the goals and objectives of the Marine Tech project. The prizes and participation certificates were distributed by Ms. Darlene Derricott from SCHEV.

In addition to the parents of the participating students, several guests attended the competition. These individuals included Dr. Laura Nelson, director of Science at Portsmouth Schools, Ms. Darlene Derricott Coordinator of NCLB program at SCHEV, Mr. Bill Piersol of Klett Consulting Group, Inc and Mr. Joe McMahon of Sabre Systems Inc.

Old Dominion University (ODU) and Longwood University are collaborating on this teacher education project, MarineTech, to integrate an innovative underwater robotics (Sea Perch) and marine technology curriculum (Marine Kits) into science, technology, engineering and mathematics (STEM) courses in the racially diverse and economically disadvantaged Southside, Central, and Eastern Virginia school divisions. The project includes 40 math, science, and technology education teachers in grades six through twelve, each of whom receive 40 hours of summer professional development and 40 hours of follow-up training and support. Teachers will work an additional 40 hours in working with their students to build underwater robot, Sea Perch. More than 1,200 students will derive benefits from the learning experience of the teachers. The project addresses the urgent need to enhance students' interest and performance in STEM courses, while fostering skills that are important prerequisites for STEM careers, particularly in marine engineering and technology. The program was cosponsored by the Office of Naval Research and the Society of Naval Architecture and Marine Engineers.