Crowley & Titan Salvage Complete 'Sandy' Relief Projects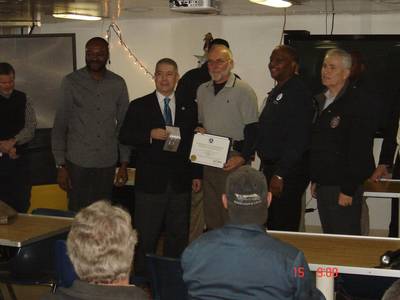 Crowley Maritime Corp. & subsidiary TITAN Salvage look back on their comprehensive work in response to Hurricane 'Sandy'.
The storm devastated the U.S. Northeastern coast in late October 2012, and the companies were fully involved in support of relief organizations working in the areas hardest hit by 'Sandy'.

The combined response efforts provided by Crowley and TITAN were extensive. Shortly after the storm, the S.S. Wright, a Crowley-managed, Maritime Administration (MARAD) Ready Reserve Force ship, along with fellow MARAD vessel Kennedy, relocated to Staten Island, NY, in support of the Federal Emergency Management Agency (FEMA) to provide cost-effective berthing and meals for more than 900 FEMA personnel and Red Cross relief workers, among others, daily. After being stationed in New York for more than a month, the S.S. Wright provided more than 4,000 overnight accommodations and over 15,000 meals. In honor of the S.S. Wright and Kennedy crewmembers' excellent efforts, MARAD recently recognized them with Merchant Marine Medals for Outstanding Achievement.
The Crowley logistics team also tapped its capabilities by coordinating the land transportation of oversized pumps, generators and associated equipment in support of the Defense Logistics Agency (DLA) and the Army Corps of Engineers. Crowley's liner shipping services team, based in Pennsauken, NJ, provided additional support services by supplying necessary transportation equipment and truck drivers. The fleet of heavy haul trucks – nearly 150 in total from all over the U.S. and Canada – delivered the out-of-gauge equipment to Lakehurst, NJ, where the Crowley logistics team then arranged for the cargo to be unloaded quickly using heavy-lift cranes and transported to their final destinations throughout the tri-state area via cost-effective shuttles. In a single day up to 30 trucks made deliveries.

Simultaneously, TITAN and OPA 90 Marine Response Alliance partner, Marine Pollution Control, the largest and most experienced US provider of emergency lightering services worked alongside TITAN personnel to mobilize their high-capacity pumping systems for industrial pumping services. The equipment was deployed at the site of the World Trade Center memorial and museum in New York City. Thanks to the team's fast and effective work, water was removed quickly, allowing tourism to commence prior to the Thanksgiving holiday rush, a critical time for the city's economy.
TITAN was similarly engaged in several additional wreck removal and emergency response projects in some of the hardest-hit areas along the Northeastern coast.
The next project was done in response to the 1,100 DWT tanker John B. Caddell, which washed ashore on Staten Island, N.Y., during the hurricane's storm surge. The job, which included oily water and HAZMAT removal, securing hull breaches, ballasting, and installing anchor points was completed in only five days in partnership with Sea Wolf Marine, a N.J.-based marine towing company.

TITAN was soon after hired by the N.Y. Port Authority to remove the stricken barge New York from the Port of Newark, where it became stranded. TITAN successfully removed the vessel and refloated it in only three days using the company's roller bags.

Next, TITAN, along with partner Inland Salvage – a Louisiana-based salvage response and wreck removal service provider – was hired once again by the N.Y. Port Authority to remove containers, which were either washed ashore or were submerged near Governor's Island, a 172-acre island in the heart of New York Harbor. To complete the job, TITAN and Inland Salvage mobilized a crane barge and dive team.

TITAN and Inland Salvage also joined forces to remove 11 barges that washed ashore in South Amboy, following the storm surge. Nine of the barges were successfully refloated using TITAN's roller bags and the remaining two were delivered to a recycling facility for scrapping. The project was completed in only 19 days.

Finally, TITAN and Inland Salvage worked together to remove the N.Y. Waterways ferry boat U.S. Senator Frank R. Lautenberg from where it was washed ashore onto the greens of Liberty National Golf Course, which is positioned alongside the Hudson River in Jersey City, N.J. Once again deploying TITAN's roller bags, the teams were able to successfully ease the ferry back into the water in less than five days.

Picture detail: MARAD recognize the Crowley-managed S.S. Wright crew with Merchant Marine Medals for Outstanding Achievement. Shown: Crowley's Captain Fred Wally accepting the award.