UASC Completes Award Winning Finance Deal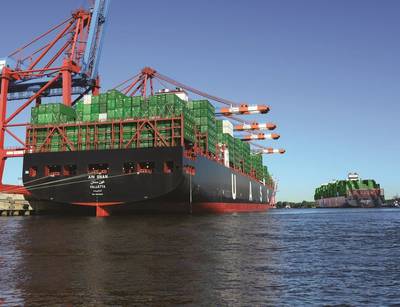 United Arab Shipping Company (UASC) announced the recent conclusion of a series of transactions that resulted in the issuance by a U.S. based trust of $162 million of Enhanced Maritime Trust Certificates (EMTC). The EMTCs were issued in an offering pursuant to Section 4(a)(2) and Regulation S under the U.S. Securities Act, and the transaction marks UASC's debut financing in the debt capital markets. The EMTCs received a (private) Investment Grade rating by
Fitch Ratings Ltd
and Kroll Bond Rating Agency and the proceeds were ultimately used to finance the debt portion of two 2012-built 13,500 TEU container vessels.
The EMTC issuance received strong interest from institutional investors in
Europe
and the United States, and the transaction is expected to facilitate repeat capital market issuances by UASC that will afford it access to a broader investor base in the Investment Grade markets, a critical component of UASC's strategy to diversify its funding sources for its currently scheduled and anticipated long term capital expenditure program.
Samir Sharma, Vice President – Project Finance of UASC said, "This award winning transaction is a landmark and precedent setting financing for UASC, marking its debut in the debt capital markets, and it creates a replicable model for future financings. We are confident that the company will continue to tap into this market in future for its financing needs as it provides access to a new pocket of liquidity for the financing of assets over a longer portion of their life cycle. Further, this transaction demonstrates UASC's willingness to adapt to changes in the traditional ship finance market and implement innovative financing structures in response to those changes".
Advisors
UASC appointed Deutsche Bank AG (London Branch) as Global Co-ordinator & Structuring Agent, Joint Bookrunner and Placement Agent and Citigroup Global Markets, Inc. as Joint Bookrunner and Placement Agent on the EMTC transaction. Further, White and Case LLP acted as UASC's New York & English law counsel, Ganado Advocates acted as Malta counsel, ASAR acted as Kuwaiti counsel and Al-Tamini as UAE counsel.