Concordia Maritime's Suezmax Tanker Named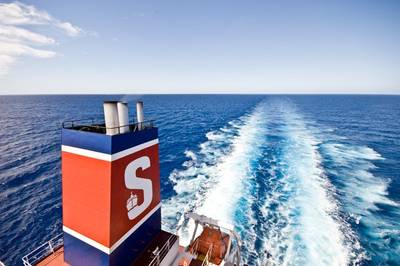 Concordia Maritime's Suezmax tanker christened 'Stena Supreme' at the Samsung Heavy Industries shipyard in Geoje, South Korea
The tanker is a third generation, fuel-efficient Suezmax and will be employed in the open market via the Stena Sonangol Suezmax Pool. She is expected to be delivered shortly, the fifth in a series of seven units, each representing an investment of just under SEK 500 million, designed by Stena Bulk and ordered in March 2010.
Together with Samsung Heavy Industries (SHI), Stena Teknik has been responsible for the development of the new ship model, where the focus has been on energy efficiency. The vessel's technical equipment and design mean that fuel consumption can be reduced by up to 10-15 percent compared with standard tonnage.
Stena Supreme will be employed in the open market via the successful pool collaboration between Stena Bulk and Sonangol, the state-owned Angolan oil company.
The Stena Sonangol Suezmax Pool is controlled by Stena Bulk and the Angolan state-owned oil company Sonanagol. Since it was established in 2005, the pool has generated better revenues than other competing pools. This year, plans are in place for an expansion to a total of 30 Suezmax tankers, the majority of which will be new and efficient.
Stena Bulk's offices in Houston, Rio de Janeiro and Singapore are responsible for the operation and chartering of the vessels in the pool.
Technical data for the Stena Supreme:
Length: 274 metres, Beam: 38 metres, Deadweight: 158,700 tons