Great Ships of 2013: Oceanex Connaigra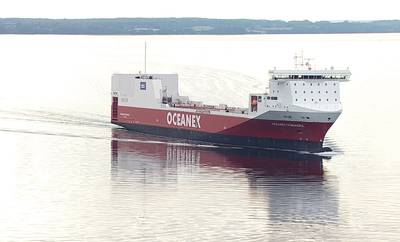 Oceanex Connaigra is Oceanex Inc.'s 210-m custom-designed container/roll on roll off (Con/Ro) ice class 1A ship that was built at the Flensburger Schiffbau-Gesellschaft mbH & Co. (FSG) shipyard in Flensburg, Germany. According to FSG, it will be "one of the longest, most innovative, environmentally friendly, and flexible Con/Ro ferries in the world."
Following four years of study and research, the design stage was completed. First steel was cut in October 2012, and the keel was laid on February 11, 2013. Oceanex Connaigra is the largest Canadian flag Con-Ro ship with its carrying capacity of 19,500 deadweight tons and service speed of 20 knots.
In order to address the MARPOL Annex VI emissions regulation that will be going into effect in 2015, and to ensure the Oceanex Connaigra will be environmentally friendly, a dry scrubber air emission cleaning system designed by Couple (Germany) will be installed. According to FSG, this is the first shipboard dry exhaust gas cleaning system in the world. The dry scrubber system uses pelletized hydrated lime which reacts with the sulfur, causing the sulfur to attach to the lime resulting in close to zero sulfur emissions, a technology proven in shore-based power stations. Because the lime is heated to such a high temperature, the oily residues and soot that are normally present in exhaust gases are burned off in the scrubber. The lime will be carried in specially designed container tanks to the ship where it will be loaded into onboard silos. From the silos, the lime is transferred to mix the exhaust gases using a pneumatic control system. The amount of lime used is dependent on the fuel sulfur content. The spent lime can be used as fertilizer or in the manufacture of gypsum board. DNV classified Oceanex Connaigra as a "clean ship."
The dry scrubber system is advantageous because the power that is required mainly runs small conveyor belts and a blower, compared to pumps required by wet systems which impact the electrical balance and demand larger generators.
Whereas containers on conventional ships must be lashed on all voyages, due to the ship's active and passive stabilization systems, lashing will be reduced and will only be required during periods of extreme weather conditions. Oceanex Connaigra is fitted with three flume tanks which are located above the weather deck aft. During periods of rough seas and high winds they will work in combination with two gyro-controlled fins to reduce ship motions. The fins are retractable, wide and extend out 20 feet into the water when operational.
To maximize maneuverability in port in high winds and to avoid the use of tugs, the Oceanex team specified 8,000 hp spread over four thrusters to provide mechanical redundancy and reliability.
(As published in the December 2013 edition of Maritime Reporter & Engineering News - www.marinelink.com)