Maritime Consolidation: Palfinger Aims to Acquire Harding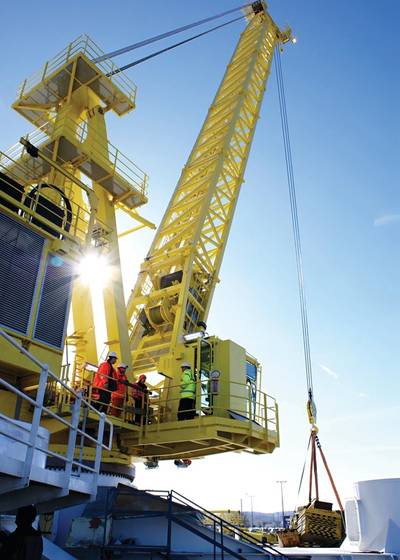 As maritime markets continue to struggle, merger and acquisition activity should heat up. Today, Austria's Palfinger Group announced that it intends to acquire 100% of the shares in Herkules Harding Holding AS and thus, the globally operating Harding Group. The seller is the Norwegian private equity fund Herkules. Harding is a leading suppliers of lifesaving equipment and lifecycle services for maritime installations and ships. Through this acquisition, PALFINGER will add new products and an international service network to its marine business.
Subject to the positive outcome of the due diligence audit and the final negotiations, the signing is scheduled to take place in the coming weeks. The acquisition of Harding by PALFINGER is contingent on the approval of the authorities.
Harding is headquartered in Seimsfoss, Norway, and, with its comprehensive service network, maintains operations in 16 countries around the world. In the marine industry, the service segment is an integral part of business operations, not least due to international regulations such as the UN Convention for the Safety of Life at Sea (SOLAS). Harding achieves around half of its revenue through lifecycle services. Its main products are lifeboats, rescue boats and davits. The company has customers all over the world in all the relevant segments such as oil and drilling companies as well as shipyards for deep-sea vessels, tankers, container ships and passenger ships.
Today's Harding Group was created through a combination in 2013, when Herkules Capital acquired Schat-Harding and Noreq. Schat-Harding was established in 1945 and had a strong position in high-end markets. Noreq was founded in 2006 and recorded brisk international growth. The two companies were an ideal match in terms of products and markets; under the name Harding, they have since been a leading supplier of lifeboats. With a staff of approx. 800 employees, the company recorded revenue of around EUR 140 million in 2015.
"Both the portfolio and the service network offer numerous synergies and there is hardly any overlapping. Together, we will become the market leader in lifesaving equipment. Due to the excellent structure of Harding's service business, Palfinger Marine will be less dependent on the oil price and investment propensity of the oil industry," said Herbert Ortner, CEO of Palfinger AG, on the significance of this acquisition.
Palfinger Marine is one of the leading suppliers of
deck equipment
and handling solutions for maritime industries. With Dreggen and Norwegian Deck Machinery, PALFINGER is already operating in Norway. However, its service business for marine solutions is not yet very strong, which will be addressed with the new acquisition.