Construction Begins on Washburn & Doughty Hull 101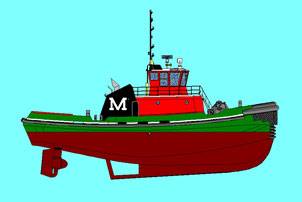 On January 4, 2011, Washburn & Doughty Associates, Inc. of East Boothbay, Maine began construction of a 93-ft by 38-ft, 6,000 hp Z-Drive tug for Moran Towing Corporation of New Canaan, Conn. Washburn & Doughty is building the vessel to its newest in-house design based upon the yard's previous 92-ft by 32-ft design, of which there are 22 tugs in operation. The increased length and beam will allow for increased horsepower while maintaining the maneuvering characteristics and handling capabilities.

The vessel will be classed ABS Maltese Cross A1, Maltese Cross AMS, Towing Vessel, and Escort Vessel and will admeasure less than 300 gross tons.

The tug will be powered by two MTU M63L16 cylinder series 4,000 main engines each rated at 3,000 bhp at 1,800 rpm. The propulsion units will be Schottel model SRP 1515 FP drives, equipped with stainless steel propellers measuring 2,600 mm and nozzles lined with stainless steel. Bollard pull is anticipated to be 70 mT ahead and 66 mT astern.

The tug will feature a machinery alarm system assembled by First Electric Motor Services and built from Siemens components.

The vessel will be outfitted with two John Deere model 6068TFM76, Tier II emissions certified 1,800 rpm marine engines providing 99KW, 120/208 VAC, three-phase power. Under normal conditions one generator will be on-line for ship's service and the other will be on standby. In the event that the on-line generator fails, the standby generator will automatically go on-line and the generator experiencing the failure will automatically shut down.

The vessel will be equipped with a Markey DEPC-48 electric hawser winch forward and a Markey CEWC-60 electric hawser capstan aft. Bow fendering will be two courses of cylindrical fender up high along with soft loop and wing type sub fender below. A course of D-fendering, measuring 12 by 14 inches, will be fitted at the main deck extending from the bow fenders at the sides and around the stern.

It is anticipated that the electronics package will include two VHF radios, one loud hailer, two radars, one depth sounder, two DGPS, one AIS, one Sim-Motion System, one Blue Box System with five cameras, one Furuno RD-30 Weather Station and one satellite compass.

Accommodations will be provided for seven crew members. It is anticipated that Oakledge Carpentry of Harpswell, Maine will complete the joiner work.

Approximate tank capacities:
Fuel oil 40,000 gal
Fuel oil overflow 3,300 gal
Main engine lube oil 1,000 gal
Gear oil 175 gal
Hydraulic oil 175 gal
Coolant holding 105 gal
Gray water/treated sewage 2,200 gal
Potable water 4,000 gal
Ballast 15,000 gal
Dirty oil 1,000 gal

Washburn & Doughty is also currently building two Z-Tech 7500 Class Terminal/Escort Tugs. Construction at the shipyard takes place in a new, state-of-the-art building that can accommodate vessels up to 200 ft by 50 ft.