Korean Shipyard Delivers Container Ship 'Hanjin Argentina'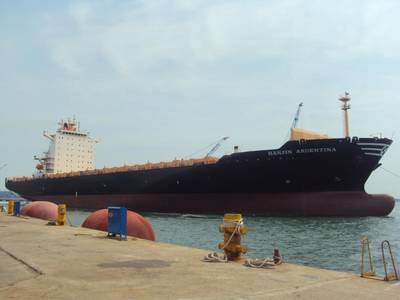 The 3600 TEU container ship, built under the supervision of Navgathi Marine by Hyundai Sambo delivered to Pacific International Lines.
Hanjin Argentina is the third of a series of four such vessels ordered by Pacific International Lines of Singapore from the S. Korea shipbuilders.

Navgathi Marine is providing the new building supervision services to eight PIL vessels under construction at Hyundai Samho Heavy Industries and Hyundai Mipo Dockyard of South Korea and a site team of Navgathi's is there to manage these projects.

The four vessels of Hanjin series are of length 221 meters and breadth 35 meters. They are designed for a speed of 21.2 knots, and are fitted with Hyundai-MAN B&W main diesel engines of nominal rating 20,601 kW x 87.9 RPM.

Pacific International Lines (PIL) incorporated in Singapore, is one of the largest ship-owners in Asia. PIL operates container liner services covering the whole of the Far East to Europe, Black Sea, Canada, and the Indian sub-continent, Red Sea/Gulf, East Africa, South/West Africa, Australia, New Zealand, East Coast of South America and West Coast of USA.