DNV GL Examines Container and Bulk Shipping Trends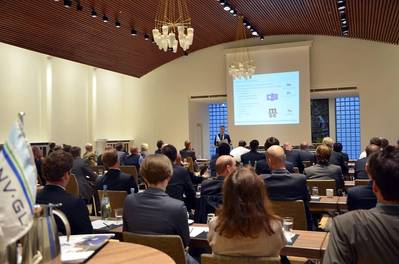 DNV GL's latest Container Ship Forum and Bulk Carrier Forum looked at a broad spectrum of topics including environmental regulations, trends in ship design as well as the new DNV GL rule set. Some 150 representatives from the container and bulk industry met with DNV GL experts at the forums in Hamburg to hear the presentations and participate in informal discussions.
As economy of scale is reducing transportation costs per box, the demand for ever bigger vessels is continuing. Business director Jost Bergmann said that in the near future it would be possible to build ultra-large containerships with a capacity of 24,000 TEU. Based on a current 19,000 TEU vessel design, these ships could be one hold longer, two rows wider, and one hold tier higher. Due to stability factors and steel thickness requirements, it is easier to increase the beam than to increase the length. But besides coping with higher acceleration and gravitational forces, ultra-large wide-beam vessels would also be constrained by port and seaways limitations, such as crane outreach and drafts. In the Suez Canal, for example, restrictions for the ship's cross-sectional area are leading to a permissible draft of only 15 meter for a 65 meter beam. This may be an acceptable design draft, Bergmann explained, but the scantling draft would be higher. Further height constraints could apply due to bridges in ports such
as Hong Kong, Hamburg or Osaka. "We are slowly approaching limits in ship size development," Bergmann therefore concluded.
Marcus Ihms, DNV GL's ship type expert for container vessels, explained the advantages of Route Specific Container Stowage (RSCS). This new approach to determining accelerations on containers enables shipowners and operators to increase their vessel's performance by better accounting for a ship's individual characteristics and considering individual trade patterns, including weather conditions en route. "RSCS is not just a trend, it has become an industry standard," Ihms said. "The respective notation has been available since May 2013 and we have already approved lashing computers and stowage plans for 411 ships," he added. DNV GL expects this number to almost double by the end of 2015. Ihms also explained the advantages of StowLash, a free of charge tailor-made calculation tool for the verification of container securing on deck and in hold. StowLash also considers external lashing and twistlock clearance.
The pressures of the new regulation for Sulphur Emission Control Areas (SECAs) are already being felt – they come into force on the 1st of January 2015. Jörg Lampe, senior project engineer risk & safety and systems engineering at DNV GL, provided an overview of the rules set by the International Maritime Organization. At the moment switching from heavy fuel oil (HFO) to marine gas oil (MGO) is the most feasible option to achieve compliance. As this procedure poses several challenges, DNV GL developed a Fuel Change-Over Calculator that can help customers determine the optimal lead time for switching to MGO. The tool takes fuel specification, consumption of machinery, fuel system layout and temperature change constraints into account. It increases both safety and efficiency during the change-over procedure.
Wolf Rehder of Veritas Petroleum Services gave an overview of new low sulphur fuel products that have recently entered the market. They are approximately 20 to 50 USD cheaper than MGO and claim to be compliant with the new sulphur limitations in SECAs. However, shipowners and operators still need to take issues such as microbiological contamination, flash points and lubricity into account when using low sulphur products.
Another pressing regulatory issue is ballast water management (BWM). "Due to ballast water shipping is the most important source of marine invasive species which currently create approximately seven billion Euros of losses to the global economy each year," said Ralf Plump, ship emissions and environmental R&D expert at DNV GL. He gave an update about the current legal framework on IMO level, outlined the special circumstances in US waters, which are caused by U.S. Coast Guard regulations, and talked about the potential changes that may occur in the future. The IMO Ballast Water Management Convention has been signed by 43 countries. That adds up to about 32,54% of the world's fleet – the target is 35%. Important global players such as Panama, Greece or China are still holding back, but Italy and Indonesia have informed the IMO that they will sign the convention shortly, which would be enough to reach the target. To date, 53 ballast water management systems have obtained full IMO type approval.
DNV GL's Bulker expert Sönke Pohl emphasized the value of vetting schemes for dry cargo vessels and explained which factors are vital to assessing the quality of a ship. Ship vetting is a risk assessment process carried out by charterers and terminal operators to determine whether a ship is suitable to be chartered. "This can be a very reliable risk management tool, but unlike certification or classification, vetting is a private, voluntary system that operators may opt to use," he said. DNV GL's condition assessment program (CAP) is already well established within the tanker industry and could also improve risk assessment in the bulker sector. It examines the ballast tanks, cargo holds, machinery and the cargo system in depth – rating the quality of the vessel in a comprehensive, reliable way and calculating its strength.
Finally, Holger Jeffries, program manager class development at DNV GL, spoke about the new rule set that is due to be published in July 2015 and will come into force in January 2016. "It will be a comprehensive rule set that is easy and intuitive to use. Ship type rules summarize requirements specific to ship types and additional class notations are grouped to make them more transparent," he explained. Ship managers are welcomed to interact in technical working groups, participate in hearings and take part in trainings for rules and tools during the implementation process.