A Container Ship Owner Who Got 2012 Right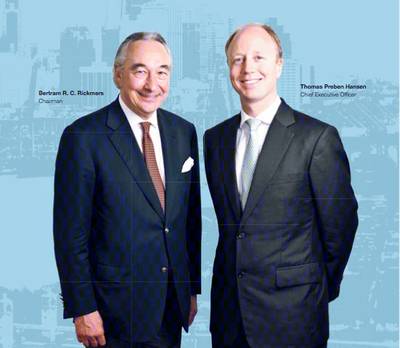 "As we close the 2012 books, we have every reason to be satisfied with the Trust's positive results," says Rickmers chairman.
Extracts from chairman, Bertram R.C. Rickmers's letter to shareholders in the recently released 2012 financial report:
The Trust delivered a satisfying set of financial results in the year ended 31 December 2012, with the following highlights:
- Sustained profitability with net profit of US$27.6 million
- Reliable cash flows from operating activities of US$109.2 million - Repayment of US$52.0 million of secured bank loans
- High fleet utilisation rate of 98.9%
The business performed well operationally, with all sixteen [container] vessels generating strong revenues. Rickmers Maritime, being specifically structured around long-term fixed-rate time charter contracts, is largely insulated from the renewed pressure on time charter rates.

The challenges to our industry are by no means over. Container shipping, reliant as it is on consumer demand, cannot avoid being impacted by the economic slowdown of the developed world. However, with many of the macro economic issues finally being dealt with in a more constructive manner, a possible return to economic stability may be expected in the year to come.

Our steady performance has led to an increased confidence in Rickmers Maritime which was reflected in our rising unit price over the past year.

We are only as strong as our counterparties. Fortunately, our counterparties comprise five of the world's leading container liner companies. Their performances in 2012 were considerably better than 2011 and this strength lowered our counterparty risk and improved our certainty of earnings.

The Trust recorded revenues of US$144.3 million for the year, with only one vessel, Kaethe C. Rickmers, momentarily exposed to the depressed charter market at the time of concluding her charter to Mediterranean Shipping Company (MSC).

Despite that, the Trust enjoyed an average daily charter hire of around US$25,000 per vessel, and an average remaining charter period of 3.2 years as of 31 December 2012.