Container Ship Propellor Damage Fixed by FN Diving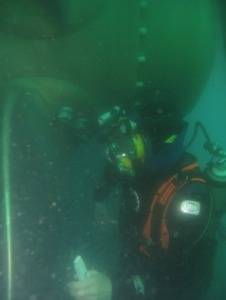 Heavy shaft vibrations led a container shlp owner to call in FN Diving in Rotterdam for underwater repair of the propellor.
The inspection of the propeller revealed a deformation on one of the blade tips due to impact damage, the blade was found bent up to a 70 degree angle towards pressure side, while the tip of the next blade was broken off. In cooperation with the Propeller manufacturer, FN Diving determined an in situ repair plan.

In order to assure a minimum delay for the vessel, the decision was made to crop off and hydrostatically balance 2 tips in a way to maintain the propellers hydro-dynamic requirements.

The deformed blade was straightened using FN Diving's underwater propeller repair apparatus, specially designed for bending propeller blades due to ice or impact damage.

The damaged propeller blade was directly straightened underwater by an FN Diving operations team bringing the blade back as close to the original design possible to restore optimum performance and efficiency of the propeller.

Within 9 hours all blades were cropped, straightened and hydro-dynamically reshaped, allowing the vessel to continue her voyage, and no vibrations were subsequently noted.