Brexit to Hinder Container Shipping Recovery -MSI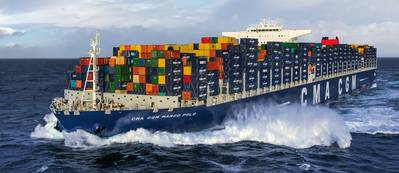 Britain's decision to leave the EU will not by itself deal a body blow to shipping markets, but its implications create significant downside risks
The U.K. Brexit vote will have far-reaching effects on the container shipping market, despite the country's relatively minor role in global trades, according to industry research and consultancy
firm Maritime Strategies International
(MSI).
MSI's analysis of the impact of the U.K. Brexit vote on the container shipping sector finds that amid the short term political and economic uncertainty, the downside risks for container shipping have been extended beyond 2016 and into 2017 as the risk of recession grows.
In and of itself, the impact of reduced U.K. economic growth as a result of Brexit will be slight for container shipping, as the U.K. market only represents around 5 million TEU out of a global total of 185 million TEU. However, there are three ways in which Brexit could have a far greater impact.
MSI said the first is on a wider European project in which policymakers are far more reluctant to impose structural reforms on recalcitrant countries. Furthermore, given that populism seems to be the new order of the day, further measures to liberalize or encourage trade look increasingly imperiled.
Secondly, there will almost certainly be a long-term impact not merely on sterling but also the euro itself, with the direction of travel likely to be downwards. According to MSI, this will have a significant impact for container shipping. MSI believes that the negative growth seen on the Asia-
Europe trade
in 2015 was largely a function of inventory destocking which in turn reflected the significant falls in the euro seen that year.
James Frew, Senior Analyst, MSI said, "Prior to the Brexit vote, we had believed that the stabilization of the euro would lead to significant inventory restocking in 2016, which in turn would push up Asia-Europe westbound trade growth to over 7 percent year-on-year in the second half of 2016. This rapid Asia-Europe trade growth, and its knock-on impact on intra-Asian cargoes, is integral to our projections of the rapid elimination of idle capacity – or at least its reduction to below 500,000 TEU which is the level at which we believe some pricing power shifts back to the owners."
If the euro weakens further, Frew believes it is reasonable to expect a protraction of the high amounts of idle capacity and as a consequence a deferral of any meaningful market improvement to 2017.
The third element is the impact on sentiment both in Europe and globally. MSI said that if recessionary fears filter into the real economy, shipping will be one of the casualties – a highly plausible scenario given the extent to which markets are skittish and economies weak.
Taken in isolation Britain's decision to leave the EU is not going to sideswipe the shipping markets. However, the possible knock-on effects are potentially severe. At present MSI said it is not adjusting its Base Case scenario, but in the space of a few days, the risks to this scenario have shifted from the upside to the downside.