New Container Spreader from Tandemloc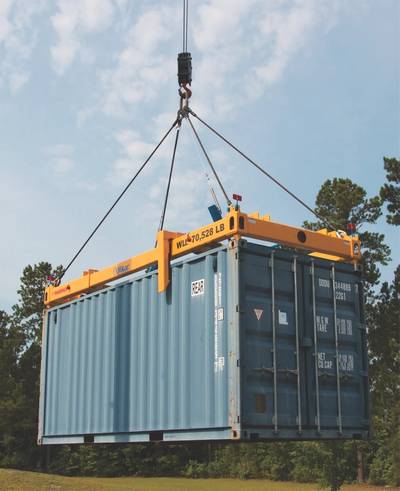 For years mechanical container spreader frames have been a fixture on jobsites, river ports and any other location that utilizes ISO shipping containers. While container lifting frames are well worth their size and weight in operational cost savings, they often eat into those very savings because of the expensive shipping methods firms must utilize to get the frames on site for use.
In response to this problem, Tandemloc has designed and fabricated the N3100SF Modular Autoloc Container Spreader for ISO Container Lifting. The Modular Autoloc Container Spreader utilizes the same operational mechanisms as the Fixed Frame Tandemloc Autoloc, wherein the frame's twistlocks lock/unlock onto a container via mechanical operation – no hydraulics or
electronics needed
– making it more convenient than most manual spreaders as no ground personnel are required. Tandemloc's all new standard Modular Autoloc Container Spreader can be used to lift 20' or 40' ISO Containers weighing up to 70,528lbs. Flipper Guides assist the crane operator in guiding the frame onto the top of the ISO Container and Indicator Flags provide a positive visual cue of the locked twistlocks. The most user-friendly feature of the Modular Autoloc Container Spreader is its ability to be quickly broken down and palletized for LTL freight transport. Simply by removing a series of pins, the Modular Autoloc Container Spreader can be transformed from a 20' or 40' rectangular frame down to a small enough size to fit onto a steel shipping pallet. This feature alone can potentially save users thousands of dollars in freight costs and minimizes the container spreader frame's footprint on the
job site
or ship deck.
The N3100SF Modular Autoloc Container Spreader is designed, manufactured and proof tested in the U.S.