Rena Shipwreck – Storm Sends More Containers Adrift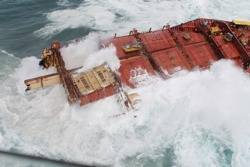 Maritime New Zealand Authority updates wrecked container ship condition in storm conditions
Salvors report the aft section of the wreck being subject to rolling movement in rough seas, with waves of 8-10m hitting the vessel. It is estimated that 11 containers (both 20 and 40ft) have been lost into the sea, however, extremely rough sea conditions are making it difficult to accurately assess numbers.
With the movement of the aft section on the reef, it appears that the bridge section of the wreck is now completely submerged. However, rough seas make it difficult to determine the extent of the movement.
The weather conditions are forecast to gradually ease, though winds will remain strong and the sea is expected to remain rough for several days.
The ongoing rough weather may result in more containers potentially being lost, as well as more pockets of oil being released from the vessel.
Rough weather and sea conditions continue to hamper salvage and container recovery operations, with the crane barge Smit Borneo remaining in port until the weather eases sufficiently to allow safe operations.
Salvors plan to carry out an overflight of the wreck to further assess the condition of the wreck.