First Containership Receives LR Cyber Notation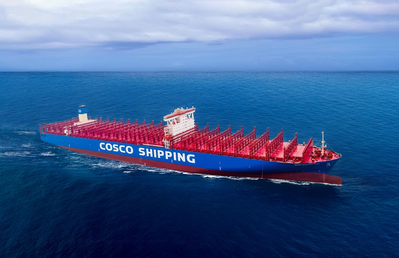 The newly built containership MV
COSCO Shipping Aries
, recently delivered to COSCO Shipping Lines, is the first ever containership to receive Lloyd's Register's (LR) cyber-enabled ship (CES) descriptive note "Cyber AL3 SECURE PERFORM" for its energy management system.
The 20,000 TEU ship was built by Nantong COSCOS KHI Ship Engineering Co., Ltd (NACKS).
"MV COSCO Shipping Aries is the first 20K TEU level ultra large containership built in Chinese shipyard owned by COSCO Shipping Container Lines. She is not only one of the largest container ships in the world, but also a ship with high cyber functions," said Shi Yongxin, COSCO Shipping Container Line Co., Ltd, Safety & Technology Department, General Manager.
Yongxin continued, "We have always attached great importance to cyber enabled fleet in order to enhance fleet management,
reduce energy consumption
and control emission. In the field of cyber enabled ship, LR has great research findings and well established requirement. During the construction of the MV COSCO Shipping Aries, we are very fortunate to have the great support from LR and finally, successfully obtain the first AL3 level descriptive note for ultra large container ship in the world, this ensure our goal is successfully achieved. We hereby express our heart-felt gratitude and look forward to more cooperation between the two sides in the field of cyber enabled ship."
The ship complies with the revised version of LR's Cyber-enabled ships ShipRight procedure, issued in December 2017. The descriptive note gives an Accessibility Level (AL) for autonomous/remote access for the system, this ranges from the information-only AL0 (no access) and AL1 (manual access) through AL2 (cyber access for remote or autonomous monitoring) up to the highest AL5 (autonomous monitoring and control, with no onboard permission required or override possible). AL3 is defined by LR as "Cyber access for autonomous/remote monitoring and control (onboard permission is required and onboard override is possible)."
"Cyber-enabled systems" are considered to be systems installed onboard ships that would conventionally be controlled by the ship's crew but which, through recent advances in IT and Operational Technology (OT), now include the capability to be monitored, or monitored and controlled, either remotely or autonomously with or without a crew onboard the ship.
The functionality provided by cyber-enabled systems can range from simple remote monitoring with a crew onboard through to a fully autonomous vessel without a crew onboard. Consequently, as the risks can vary considerably, the assessment of cyber-enabled systems requires a risk-based approach to identify the hazards introduced by cyber-enablement and to mitigate the associated risks
COSCO is now aiming to apply LR's CES descriptive notes to some of their other vessels.
Nick Brown, LR Marine & Offshore Director, said, "The request from COSCOS to apply LR's descriptive note was made relatively late in the project, which represented quite a challenge for LR, NACKS and COSCOS to complete this prior to delivery, especially with the system being AL3. However, with support from LR's global network of experts, we were able to ensure that the system could be certified in time for delivery and we are delighted to have been able to work on this innovative project."
In February 2016, LR issued the first guidance on cyber-enabled ships: "Deploying Information and Communications Technology in Shipping – Lloyd's Register's Approach to Assurance." This identified the elements that constitute a cyber-enabled ship and the activities that need to take place to ensure that cyber technology does not introduce a safety risk, effectively providing the industry with a route map to understanding the implications of
digital technology
. This was followed with the introduction of the industry's first ShipRight procedure, which details LR's framework for accepting cyber technology. This was recently revised using lessons learnt from live projects that are leading the progression in this field and where LR is in partnership with key clients such as Rolls-Royce, CSSC and Synergy Marine, as well as through lessons learnt by working with academic and industry partners at QinetiQ, the University of Southampton and the National Oceanography Center, to name a few.