Great Lakes Dredge & Dock Net Arthur Kill Contract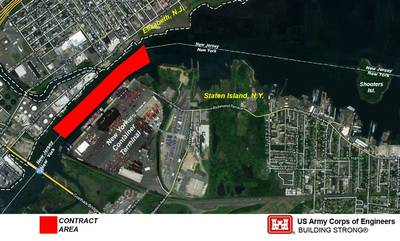 The U.S. Army Corps of Engineers (ACE) contract is for deepening NY/NJ Arthur Kill Channel to 50 feet.

The contract area for this project is along Newark Bay, New Jersey and the Arthur Kill, Borough of Staten Island, New York, N.Y. Its value is $41,368,100, cost-shared with The Port Authority of New York and New Jersey.

The project includes drilling, blasting, dredging, and disposal of rock. The Army Corps anticipates that drilling and blasting work on this
contract will not adversely affect the surrounding communities.

The Arthur Kill Channel deepening effort is part of a more extensive harbor-dredging project to create safe and efficient channels for a larger class of vessels that will be calling at the Port of New York and New Jersey.

The award of this contract enables safe navigation for the largest ships in the world and the project is a critical milestone in the development of a world-class harbor estuary in the Port.

"The Army Corps is committed to a timely completion of navigation improvements within the harbor," said Tom Shea, Project Manager. "The Arthur Kill channel approaching the New York Container Terminal is now underway with work scheduled to be completed by 2014."

The overall Harbor Deepening Project involves deepening nearly 38 miles of shipping channels between New York and New Jersey to bring them to a safe depth of 50 feet. The 50 foot deepening project is scheduled for completion in 2014.