Contract Finalized for Two New Ferries for the Little Minch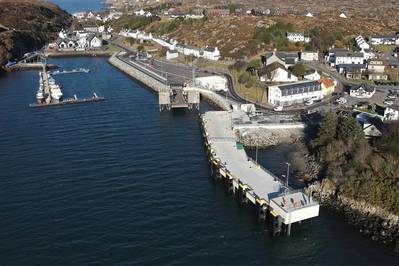 Caledonian Maritime Assets Ltd (CMAL) confirmed the signing of the Bank Refund Guarantee (BRG) for two new vessels for the Little Minch routes between Uig, Lochmaddy and Tarbert (Harris).
Work to build the ferries will now begin at Cemre Marin Endustri A.S shipyard in Turkey, with an expected delivery date for both in June and October 2025 respectively.
They will be built to the same specification as the vessels for Islay, which are already under construction at Cemre. Both are currently ahead of schedule.
Jim Anderson, director of vessels at CMAL, said, "Now that the BRG has been signed, construction of the two new vessels can begin at Cemre. We have been encouraged by the timescales the yard is achieving with the Islay vessels, with the most recent milestones being reached three weeks ahead of schedule.
"These new ferries will deliver dedicated services during peak seasons to Lochmaddy and Tarbert, increasing capacity and resilience to the Outer Hebrides."
Minister for Transport Jenny Gilruth said, "The Scottish Government is absolutely committed to improving the lifeline ferry fleet and better meeting the needs of island communities. I'm pleased the final details of the contract for these additional vessels are now in place to allow work to get underway in earnest. The update on delivery timescales falling within 2025 for these additional vessels is very welcome, along with the positive progress being made on first two vessels for the Islay routes.
"Our intention is that these additional vessels will be deployed on the Little Minch routes, delivering dedicated services to communities in the peak season rather than the shared vessel operation currently in place. This will create the opportunity for significantly increased capacity and resilience for the communities of the Western Isles.
"Since this government was re-elected in May 2021, we have bought and deployed an additional vessel in the MV Loch Frisa, chartered the MV Arrow to provide additional capacity, made significant progress in the construction of vessels 801 and 802, commissioned two new vessels for Islay and progressed investment to improve key ports and harbours. Now, we are delivering a further two new vessels as well as continuing to work on pursuing all reasonable and appropriate opportunities to enhance capacity and resilience in the short term through second hand vessels."