Six Ship Design Contracts for Ulstein in Brazil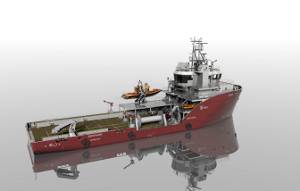 Ulstein Design has signed six ship design contracts with Brazilian shipowners CBO and DSND Consub totalling over $69.2m. The contracts are for the delivery of design, engineering, main equipment and building follow-up, and cover three different types of vessels. DSND Consub has ordered two oil spill recovery vessels (OSRV) of the Ulstein P801 model with a conventional bow, while CBO ordered two larger and two smaller platform supply vessels (Ulstein PX105 and Ulstein PX106 types, respectively) with the Ulstein X-Bow.

Both shipowners will be utilizing Brazilian shipyards, with CBO's four ships to be constructed at the Alianca yard, and DSND Consub's two vessels at the ETP yard.