Gulf of Aden Counterpiracy Discussion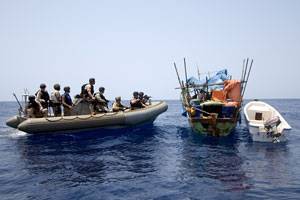 Leaders from three of the major task forces operating in the Gulf of Aden met aboard the Spanish warship Numancia (F-83) at sea July 19.

Task force commanders from NATO, the European Union and Combined Maritime Forces (CMF) met to discuss coalition counterpiracy operations off the coast of Somalia.

"Although the three combined task forces (CTF) belong to different organizations and have different mandates, we all aim for the same goal, which is to deter, disrupt and suppress piracy in very close coordination and cooperation," said Turkish Rear Adm. Caner Bener, commander, CTF 151. "We want to ensure safety and security in the region for all those who sail in the area. Working closely together greatly strengthens the effect of our counterpiracy efforts."

The meeting allowed for the development of new strategies and future plans to more effectively and efficiently track down suspected pirates and to protect sea lines of communication.

"With more than 30 different warships under the command of several task forces, dialogue and coordination is paramount," Bener added. "There needs to be a consistently high degree of coordination, deconfliction and discussion."

CTF 151 is a Turkish-led multinational task force established to conduct counterpiracy operations under a mission-based mandate throughout the CMF area of operations to actively deter, disrupt and suppress piracy in order to protect global maritime security and secure freedom of navigation for the benefit of all nations.