NATO Counter-Piracy Enhanced Mandate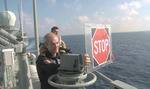 NATO's contribution to international efforts to combat piracy off the Horn of Africa and in the Gulf of Aden entered a new phase on 17 August after the North Atlantic Council (NAC) approved Operation Ocean Shield.

This new mission builds on the experience gained during Operation Allied Protector, NATO's previous counter-piracy mission, and develops a distinctive NATO role based on the broad strength of the Alliance by adopting a more comprehensive approach to counter-piracy efforts.

While at-sea counter-piracy operations will continue to be the focus, a new element of regional state counter-piracy capacity building has been developed for Operation Ocean Shield. NATO's capacity building effort will aim to assist regional states, upon their request, in developing their own ability to combat piracy activities. This element of the operation is designed to complement existing international efforts and will contribute to an improved maritime security situation off the Horn of Africa.

Allied Joint Command Lisbon is in overall command of Operation Ocean Shield while Maritime Component Command Headquarters Northwood, United Kingdom, will execute day-to-day tactical control. Naval forces in support of the operation currently consist of units comprising the Standing NATO Maritime Group 2 (SNMG2), which include the United Kingdom frigate HMS Cornwall as flagship, the Italian frigate ITS Libeccio, the Greek frigate HS Navarinon, the United States destroyer USS Donald Cook and the Turkish frigate TCG Gediz.