Twin Disc Equips Seacor's New Crewboats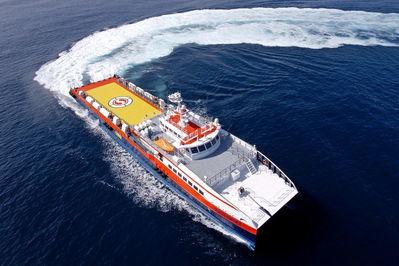 When cargo and crew need to get to an offshore platform fast, Seacor Marine delivers with its new Seacor Panther and Seacor Puma. Part of its CrewZer Class of state-of-the-art transport vessels, the 187' x 41' high-speed aluminum catamarans reach 40 kts—a dramatic speed improvement over traditional FSVs (fast support vessel). This blazing-fast speed is due to an innovative hull design, and high-performance Twin Disc QuickShift marine transmissions coupled with HamiltonJet waterjets.

Built by Astilleros Armon shipyards in Burela, Spain, each ship is powered by four Cummins QSK95 IMO Tier II engines, rated at 4,000 hp. Four Twin Disc MGX-62500 SC transmissions readily handle this raw power to drive the vessels' HamiltonJet HM810 waterjets. Combined with an innovative Incat Crowther design, the configuration results in a 30 percent increase in fuel efficiency over conventional crew and supply boats.

Specified by Seacor Marine and provided by Twin Disc distributor Sewart Supply of Morgan City, Louisiana, the QuickShift marine transmission is the industry standard for delivering fast shifting with smooth, seamless torque and exacting slow speed control. Combined with the HamiltonJets' deflectors, dual Veth VL-180 thrusters and Kongsberg ABS Class 2 dynamic positioning, the FSVs offer precise handling and station-keeping in a wide range of sea conditions.

The purpose-driven Seacor Marine FSVs boast 3,084 sq. ft. of deck space with a freight capacity of 200 tons, and a loaded draft of only 8.8'. They have extensive FIFI-1 firefighting capabilities and chemical dispersant booms on board. With a cruising speed of 35 kts, a smooth trip is ensured with Maritime Dynamics ride control. 76 passengers enjoy reclining business class seating and access to wireless Internet, and a wide range of entertainment and refreshment options. The vessels are based out of Angola.