Injured Bulk Carrier Crewmember Medevaced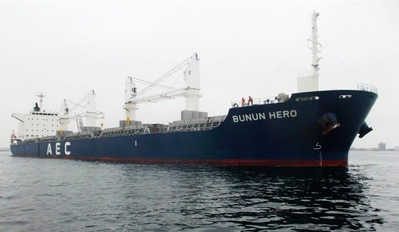 A U.S. Coast Guard helicopter crew medevaced an injured Chinese crewmember from a bulk carrier Tuesday night in the Atlantic Ocean, approximately 175 nautical miles northeast of Puerto Rico.
Coast Guard watchstanders in San Juan received the medevac request at 5 p.m., Monday from the Panamanian-flagged Bunun Hero for a crewmember who sustained multiple broken bones and a head injury after falling from a crane onboard the ship.
The 587-foot Bunun Hero was en route to
Europe
and approximately 525 nautical miles northeast of Puerto Rico, outside the range of responding rescue helicopters, when the vessel's captain reported the incident to the Coast Guard.

Sector San Juan watchstanders requested the Bunun Hero head toward Puerto Rico to shorten the distance for the medevac.

A Coast Guard rescue helicopter crew in Great Inagua, Turks and Caircos flew to Puerto Rico in anticipation of the ship's arrival to the rendezvous location. San Juan watchstanders dispatched the helicopter crew that met with the Bunun Hero and lowered their rescue swimmer, along with a rescue basket, to stabilize the injured ship's crewmember. A Coast Guard aircraft crew from Miami also provided air support during the medevac.

The helicopter crew safely hoisted the patient on board with the assistance of the ship's crew and transported the patient to the Isla Grande Airport in San Juan, Puerto Rico. Emergency medical service personnel received the patient and transported him to the Centro Médico hospital for treatment.