Crowley Vessels Earn Safety Awards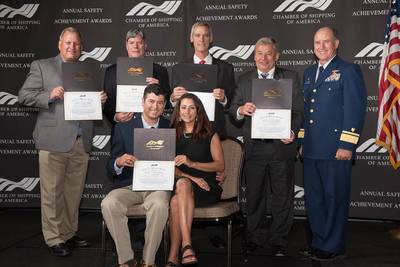 Eighty-seven vessels owned or managed by Crowley Maritime Corporation recently received the Chamber of Shipping of America (CSA)'s annual Jones F. Devlin Awards in recognition of their 2016 safety records.
Each year, the CSA grants Devlin Award certificates to manned merchant vessels that have operated for two or more years without incurring a Lost Time Injury (LTI), highlighting the skills and dedication of the crewmembers responsible for safe vessel operations.
Crowley's 2016 Devlin Award-worthy vessels together have achieved 670 years of service without an LTI. Of the 87 awarded, 24 have gone without incident for 10 or more consecutive years. Crowley vessels have earned Devlin Awards annually since 2005.
"CSA's members are committed to safe operations and CSA's involvement in safety is longstanding with our ongoing commitment to represent the industry, domestically and internationally, on safety issues encompassing every facet of ship operations," said Kathy Metcalf, CSA president. "It is only fitting that an industry so focused on safety, publicly recognizes the skills and dedication of the women and men who have enabled these many years of safe operations and who are responsible for actions in keeping with the highest traditions of the sea – aid to those in peril."
"Crowley is proud to be honored for the 12th-consecutive year with Devlin Awards, but even prouder of our dedicated crews who live safety every day – for themselves, their families and the company," said Crowley's Mike Golonka, vice president, government services. "Safety is Crowley's core value and these 87 vessels continue to embody it. Congratulations to all who have contributed to these success stories."
The following list shows all the vessels owned or managed by the Crowley family of companies that have been recognized by CSA with the 2016 Devlin Award, along with the consecutive number of years each has operated without an LTI:
Vessel / Years Accident Free
Crowley Marine Services
ARTIC HAWK / 2
GUS E / 18
MV ADMIRAL/ 6
MV AKU / 17
MV AVIK / 5
MV CHIEF / 18
MV GUARD / 3
MV GUARDIAN / 13
MV GUIDE / 18
MV HUNTER / 4
MV KAVIK RIVER / 10
MV MASTER / 11
MV NACHIK / 4
MV OCEAN / 2
MV OCEAN SKY / 3
MV OCEAN SUN / 3
MV OCEAN WAVE / 2
MV OCEAN WIND / 3
MV PROTECTOR / 4
MV PT. THOMPSON / 9
MV RAMPART / 7
MV RESPONSE / 11
MV SCOUT / 8
MV SIKU / 3
MV TIOGA / 4
MV TOOLIK RIVER / 9
MV VALOR / 9
MV VETEREN / 17
MV VIGILANT / 17
ROGER E / 18
SEA VOYAGER / 9
STALWART / 7
TANERLIQ / 10
TUG ALERT / 7
TUG AWARE / 12
TUG BULWARK / 14
TUG ENDURANCE / 10
TUG NANUQ / 17
VALDEZ STAR / 26
Crowley Petroleum Services
ATB ACHIEVEMENT/650-8 / 5
ATB COURAGE/650-5/ 8
ATB GULF RELIANCE/650-2 / 9
ATB INNOVATION/650-9 / 3
ATB LEGACY/750-1 / 5
ATB LEGEND/750-2 / 4
ATB LIBERTY/750-3 / 3
ATB OCEAN RELIANCE/550-3 / 2
ATB PACIFIC RELIANCE/650-1 / 4
ATB PRIDE/650-7 / 6
ATB RESOLVE/650-3 / 4
ATB SEA RELIANCE/550-1 / 9
ATB SOUND RELIANCE/550-2 / 14
ATB VISION/650-10 / 4
FLORIDA / 3
EMPIRE STATE / 6
EVERGREEN STATE / 6
GOLDEN STATE / 4
PELICAN STATE / 7
SUNSHINE STATE / 7
Crowley Puerto Rico Services
MV DEFENDER / 3
MV ENSIGN / 3
MV EXPLORER / 3
MV MONITOR / 4
MV PATRIARCH / 3
MV SENTINEL / 5
TUG ADVENTURER / 3
TUG RANGER / 2
TUG WARRIOR / 6
Crowley Government Services
CAPE INSCRIPTION / 5
CAPE INTREPID / 11
CAPE ISABEL / 6
CAPE ISLAND / 4
CAPE WASHINGTON /7
CAPE WRATH / 9
SS CURTIS / 6
SS WRIGHT / 10
USNS EFFECTIVE / 15
USNS IMPECCABLE / 14
USNS INVINCIBLE / 12
USNS LCPL ROY M. WHEAT / 6
USNS LOYAL / 14
Crowley Global Ship Management
NATIONAL GLORY / 4
OCEAN CRESCENT / 4
OCEAN FREEDOM / 3