Great Ships of 2016: Ethane Crystal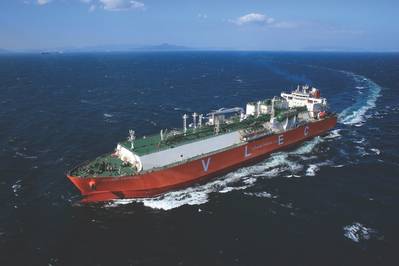 Since it started publishing in 1939, Maritime Reporter & Engineering News has recognized excellence in ship construction. This year 18 ships in total were honored, including many "world firsts."
Ethane Crystal - World's Largest Ethane Carrier
Builder: Samsung Heavy Industries
Owner: Reliance Industries, Ltd.
The world's first very large ethane carrier (VLEC), Ethane Crystal, has been delivered to India's Reliance Industries Ltd. by South Korean shipbuilder Samsung Heavy Industries (SHI).
The vessel is now the world's largest purpose-built ethane carrier – comparable in size to today's very large gas carriers (VLGC) – and with its 87,000 cu. m. cargo carrying capacity, represents a significant step up from the largest ethane carriers delivered to date: the 37,000 cbm Navigator Aurora and Navigator Eclipse.
With a larger size that supports a more efficient operation that helps make large-scale ethane transportation more economically viable, the VLEC Ethane Crystal was built to serve trade routes between North America and India, carrying ethane that will be used as feedstock for petrochemical production.
The first of its kind to be constructed with a specially designed GTT Mark III membrane cargo containment system, the state-of-the-art liquefied gas carrier is able to transport both ethane and liquefied petroleum gas (LPG) cargoes.
"Ethane Crystal is the world's largest ethane carrier, featuring multi-cargo capability of ethane and LPG based on an eco-friendly design," said Mun Keun Ha, EVP-Shipbuilding Drilling Operation, SHI.
"We are proud to be the builder for Reliance's newbuilding program and believe that Ethane Crystal, successfully delivered on November 9, will be the vanguard for boosting India's petrochemical industries."
Demand for Ethane Crystal and other ethane carriers currently on order is driven by a surplus of ethane produced as a byproduct of shale oil and gas in North America.
ABS, which classed Ethane Crystal and served as a technical advisor alongside the owners, shipyard, designer and port and flag state teams throughout its development, said the ship is the first of six VLECs scheduled to be delivered under ABS Class through 2017.