CSD General MacArthur Hits the Water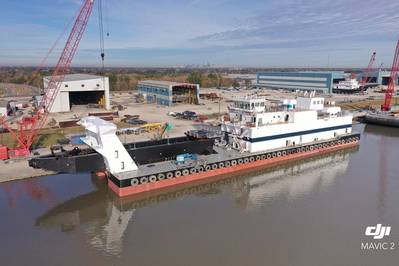 Texas-based, family-owned dredging business Callan Marine has recently launched the General MacArthur, one of the largest cutter suction dredges in the U.S. market.

At 290 feet in length and a 9 foot draft, the General MacArthur boasts 24,000 total installed horsepower.

Powered by 3 Cat-MAK diesel engines, the dredge has a fuel capacity of over 300,000 gallons, giving it the capability to work on all U.S. coasts and waterways, as well as globally.

The 32" cutter dredge General MacArthur is designed to perform capital, maintenance and beneficial use dredging (such as marsh creation and beach renourishment.) It boasts a dredging depth range of 90 feet, with an 800mm suction and discharge pipeline diameter.

In addition to powerful mechanical specifications, the General MacArthur is built with ample crew accommodations including a full galley, gym, TV/rec room, laundry facility, conference room, Engineer's office, and Captain/Chief Engineer Staterooms in addition to 33 beds (all staterooms have private bathrooms).

"The General MacArthur is a true game changer for the dredging industry," remarked Maxie McGuire, President of Callan Marine. "With its combined scope, , power and accommodations, we will see project speed and quality increase at unprecedented rates."

The General MacArthur joins the ranks of Callan Marine's other dredges: the 18" General Pershing, the 16" General Patton, and the 12" General Eisenhower. The hull was launched on November 6, 2019 at C&C Shipyard in Belle Chasse, Louisiana, and the dredge is anticipated to begin work in early 2020.