Malaysian Aluminum Crewboat Cummins-Powered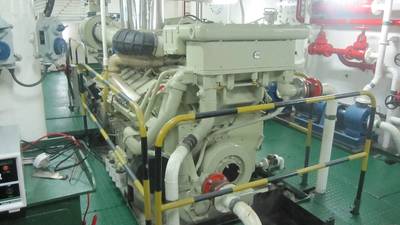 Long noted for the quality of their steel vessels, the Sarawak Slipways have recently launched an aluminum crew boat.
Built to a design by Singapore-based Naval Consult Pte. Ltd., the 38 by 7.85-meter vessel has a molded draught of 1.75 meters.
With seating for 50 personnel and accommodation for a crew of eight, the vessel is powered by three Cummins engines turning fixed-pitch propellers. The port and starboard engines are Cummins KTA38M2 models delivering 1350 HP at 1900 RPM to five-blade propellers with 1050-centimeter diameters.

The center engine is a Cummins KTA50M2 model delivering 1800 HP at 1900 RPM to an 1150 cm diameter prop. All four engines are coupled to Twin Disc gears (Models MGX6690SC & MGX6848SC) with 2.47:1 ratios.
The KTA50M2 engine is also capable of driving a fire-fighting pump through a front mounted power-takeoff. Auxiliary power is provided by a pair of Cummins 6BT5.9DM-powered 80sW generators. The boat is fitted with an electric bow-thruster. All five Cummins engines were supplied by the Cummins Malaysia distributor Scott & English (Malaysia) Sdn Bhd.

With three engines delivering a total of 4500 HP the crew boat can achieve a speed of 26 knots. Vessel name and owner has not yet been released. It is classed by Bureau Veritas.