Damen Completes Complex DSV Job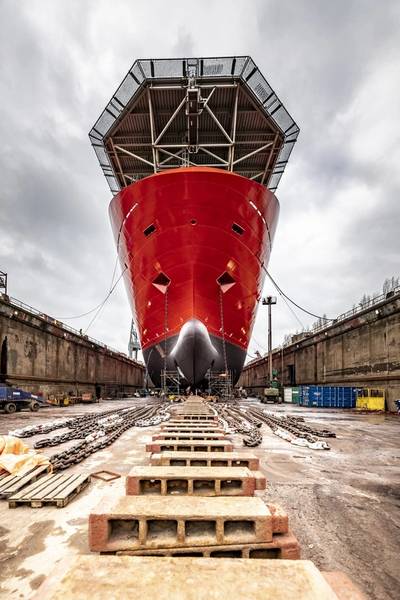 Damen Shiprepair Amsterdam has finished repair work on the 156m Diving Support Vessel (DSV) Deep Arctic.
The shipyard reports that it was a complex project with a total of 2198 work permits issued, an indication of the large number of individual jobs that were completed and the number of stakeholders involved.
The TechnipFMC-owned Deep Arctic came to Damen Shiprepair Amsterdam (DSAm) primarily for a main class renewal (intermediate) docking and for maintenance including the renewal of the steel plates to its box coolers. To achieve this the yard removed 31 separate box coolers from the forward, midships and aft sea chests. The preparations needed to accomplish this involved the disconnection of all the associated piping on both the coolers and the anodes, the removal of any associated deck plates and benches, and the installation of lifting pad eyes above the box coolers where required.
While the DSV was in the dry dock, it also underwent a complete thruster overhaul including upgrades to the tunnel, retractable and Azimuth thrusters, six in total. Its propeller shaft and center line rudder also had their 10-year overhaul. Additional associated work included the fabrication of new piping for both tunnel thrusters, renewal of the lower gear units, repairs to the rudder stock actuator and the overhaul of the stern tube seal boxes.