Push Is On To Declutter Gulf of Idle Iron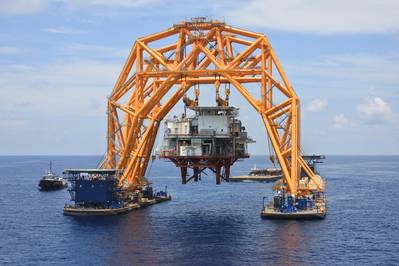 Nearly two years ago, the Obama Administration tightened rules for removing "idle iron" – old oil platforms and pipelines – and on plugging unused wells in the Gulf of Mexico.
That September 2010 move was part of a federal crackdown on deepwater oil and gas operations following the 2010 BP spill. Since then, heavy-lift companies have continued to rid the Gulf of unused structures and other firms have positioned themselves for that work.

Under the 2010 rules, wells that hadn't been used for five years were to be abandoned or "zonally isolated" within three years after Oct. 15, 2010. If wells were zonally isolated, operators had two additional years to abandon them. Platforms and supporting infrastructure that were idle for five years or more were to be removed within five years from mid-October 2010.
Bisso Prevails In Gulf Decommissioning
At Bisso Marine in Houston and New Orleans, W. A. "Beau" Bisso, IV, President, CEO and fifth-generation leader, said "we're the only company in the U.S. that actively performs offshore oilfield decommissioning and platform-removal services, along with typical, offshore and inland marine salvage. We're an industry leader in both service lines."

"None of our salvage counterparts participate in these oilfield service areas," he said. "They don't have the equipment or expertise. We perform marine construction and pipelaying services, including oilfield decommissioning as well as traditional marine salvage. Our fleet of derrick barges, laybarges, and dive support vessels are used to install and decommission oil and gas infrastructure, to lay and remove pipelines and salvage vessels."

Bisso completed 50 decommissioning projects in the Gulf in 2011. "As of today, we have over 80 to perform in 2012 alone," Bisso said in late July. "And there are a few more 2012 decommissioning projects that we're currently bidding." Industry members said Houma, La.-based Manson Gulf, LLC, a subsidiary of Manson Construction Co. in Seattle, is also skilled at removing oil structures from the Gulf. Manson declined an interview for this article but its website shows removal work, and says the company's "large fleet of floating derricks provides a wide range of lift capacities."
Versabar's Heavy-Lifter VB 10000 Removes Platforms
Versabar, based in Houston and New Orleans, uses its VB 10000 for topside decommissioning, jacket removal and underwater debris removal. "The lift vessel is rated at 7,500 tons and has lifted 4,000 tons in a single operation," said Tom Cheatum, sales and marketing manager at Versabar. The company adopted the design from its VB 4000 or Bottom Feeder, increasing its size in response to demand. "The VB 4000 was lifting downed platforms and retrieving equipment off the bottom of the ocean floor after hurricanes, and the marketplace required a larger system," he said.

The VB 10000 can save time in rig removal. "The value of the VB 10000 is it's safer and reduces the length of offshore exposure so a client isn't out there as long," Cheatum said. Launched in October 2010, "the cost to build the VB 10000 was in the 100-million-dollar range," he said. In 2011, Versabar introduced "The Claw," a lifting device used with the VB 10,000 to reduce diving exposure.

"We've removed platforms for many major operators and many independents with the VB 10000 and the VB 4000," Cheatum said. "The Claw has been used on several offshore projects. The cost of removal depends on size and other factors and whether an operator has several platforms in a long campaign of work."
Resolve Marine's 1,000-Ton Crane Derrick Barge
At Fort Lauderdale-based Resolve Marine Group, president and founder Joe Farrell said the company is equipped and staffed for decommissioning work and has done a few removals. "We've got a variety of multi-task vessels and equipment that can be used for platform, pipeline removals and salvage, such as anchor handling and other ocean tugs." he said.

Farrell continued "we have a number of heavy lift crane barges, and we're outfitting a 1,000-ton crane derrick barge." The 300' x 100' x 20' high barge for the 1,000-ton derrick was launched last month, and an A frame should be mounted on it by the beginning of next year. Farrell said "we have large deck barges and divers who can cut platforms and pipeline. Our company prides itself on having all necessary resources in house." He added, "Operationally, U.S. waters and most vessel operators are much safer today and the salvage industry here isn't as busy as we once were. Equipment is available. Consequently, this is a good time to do removal work and the industry has become more competitive in their pricing."
TITAN Salvage Focuses On Emergencies Rather Than Decommissions
Florida-based TITAN Salvage, a subsidiary of Crowley Maritime Corp., specializes in salvage and wreck removal. The company rescues oil industry equipment. Greg Detiveaux, vice president of business development at Crowley's solutions group, said "It's important to distinguish between salvage and decommissioning. Decommissioning a rig or platform is a planned event, known well in advance as there is a government obligation to decommission the platform within five years of no longer producing." A platform is removed after it isn't economically viable. "Therefore, decommissioning is really all about the lowest-cost solution to removal," he said.

Detiveaux continued, saying "salvage, however, is unplanned and much more costly. An oil platform might be lying on its side with pipelines tangled or severed. The removal or recovery is much more technically challenging and costly."
Todd Busch, Crowley Maritime Corp. senior vice president and general manager of technical services, said "the trend in decommissioning today is to contract the work for a lump sum, a fixed price. We're not focusing on that segment of the market at this time." Busch said "our salvage company focuses mainly on salvage, wreck removal and maritime emergency-response operations. We provide salvage services to vessels, rig platforms and pipelines during emergencies."

Crowley has tugs and barges that can be used during platform recovery. "When a vessel or platform requires salvage services, we provide salvage masters, naval architects or marine engineers to stabilize the vessel," Busch said. "This can become critical after a casualty, hurricane and other weather event. In this case, after the weather's gone through, a platform might be capsized or submerged, or a pipeline might be damaged. Salvage services may be required at that time."

Detiveaux meanwhile says that heavy-lift companies with derrick barges of the size matched to platform sizes for the shallow water Gulf of Mexico will likely dominate the decommissioning market. The heavy-lift companies have become more vertically integrated and own the assets or companies needed for other services that are used in conjunction with decommissioning--such as plug and abandonment, demolition and casing cutting.

In February 2009, TITAN removed the cargo from and refloated a grounded tanker, the Yasa Golden Dardanelles, off the coast of Galveston, Texas within 44 hours of the first incident report. Busch said "after Katrina we salvaged over 100 vessels of all types--ships, platforms, tugs and barges. Some of them had drifted inland over a mile from water." And TITAN was contracted by Costa Cruises in May of this year to salvage the wrecked ship Costa Concordia, off the coast of Italy. Work began in late May and could take twelve months.
D&L Salvage Sells Scrap from Offshore Equipment
In Franklin, La., Andre Franques of D&L Salvage & Marine Services said "over the past 12 years, D&L has salvaged many abandoned, state-water pipelines and oil platforms--which may consist of slabs, wooden piles, center-pile or four-pile steel structures, decks and jackets. We collect scrap steel and other metals from old pipelines and equipment for our scrap division. We complete the removal work and give the client a clean bill of health."

Some of the decks, jackets and pipelines are cut up, processed and sold for scrap metal, Franques said. Copper, iron ore used in steel and other industrial metals are more expensive than they used to be. "You only have a certain amount of these metals left in the world so it's important to recycle them," he said. "Buyers pay high prices for pieces of steel pipeline cut in little squares."
Permitting Bureaucracy Has Grown
"Under the Obama Administration, the push to remove idle iron from the Gulf has been more aggressive," Bisso said. "Our company has always performed offshore oilfield decommissioning work but the processes our customers must go through are different in the Post-Macondo world. There is more federal bureaucracy now."

Every offshore activity requires some type of government permit, Bisso said. "There isn't an all-encompassing permit for decommissioning. Oil and gas operators in federal waters apply for all permits for every, specific required service." The permitting process takes longer now because it's quite detailed and specific, and Bureau of Safety & Environment Enforcement or BSEE is still being staffed, Bisso said. The former BOEMRE, part of the U.S. Dept of the Interior, broke into BSEE and BOEM or Bureau of Ocean Energy Management last October.

Under federal rules, decommissioning applications for platforms and structures are approved within BSEE's regional field operations. Environmental review work is done by BOEM and coordinated through BSEE's environmental enforcement group. Idle iron plans for wells are monitored through BSEE's district field operations. Applications for permits to modify wells are reviewed and approved by BSEE's district offices.

According to BSEE, decommissioning is the process of ending oil and gas operations and returning the lease or pipeline right-of-way to a condition specified by federal regulations. Obsolete structures must be removed. To prevent the release of hydrocarbons into the water and air, wells are plugged and cut below the mud line, and pipelines are either removed or are cleaned and prepared for decommissioning in place.

BSEE orders a well permanently plugged if it poses a hazard to safety or the environment; or if it isn't useful in lease operations and isn't capable of production "in paying quantities." A well must be permanently plugged within a year after its lease terminates.

From October 2010 through June 2012, 1,392 Gulf wells were permanently plugged and abandoned by operators under federal regulations, and 806 were temporarily plugged and abandoned, according to BSEE last month. And, BSEE encourages the reuse of obsolete offshore structures for reefs for fish as long as they don't hamper mineral development and other Outer Continental Shelf use.
Qualifying For Offshore Contracts
Salvage companies must meet certain criteria to work in the Gulf of Mexico, Bisso said. Significant salvage and salvage-related companies in North America belong to the American Salvage Association. Many ASA members are strictly inland however, and aren't active in the Gulf of Mexico.

Offshore contractors are represented by the National Ocean Industries Association, Offshore Marine Service Association and the Association of Diving Contractors International. Most offshore contractors are members of all three organizations, Bisso said. Additionally, all offshore service contractors are required to be members of the ISNetworld. "If they aren't a member of ISNetworld, they do not work in the Gulf of Mexico for any oil companies performing oilfield work or any form of salvage," he said.

ISNetworld is a global, online contractor database, managed by ISN, collecting safety, procurement and regulatory information for more than 42,000 contractors and 250 company owners. Company information is self reported. For more about the database, visit www.isn.com.

ISNetworld is the primary vetting services, verifying that offshore contractors meet federal safety standards. "Most salvage companies do not meet ISNetworld standards and as such are not eligible to work in the GOM for oil companies," Bisso said.

Drug Intervention Services of America or DISA is another service that vets offshore contractors' safety and drug testing programs. Contractors are required to use that service, Bisso said. DISA gathers the data and reports the findings to oil companies, who then use it to verify compliance. As for vessels, Bisso said Gulf of Mexico decommissioning contractors and salvage companies work every day using both U.S. and non-U.S. built assets where legally allowed. "U.S. and non-U.S. flagged vessels legally perform a multitude of services in the Gulf," he said.
Caring For the Gulf: Like Doing Yard Work
Within offshore field developments, some wells become idle while other continue to produce. Few offshore wells produce continuously, however. Adverse weather, maintenance, production problems and declining energy prices can affect output. Wells that stop producing may be used at a later time to explore a formation.

Nonetheless, "a couple thousand platforms in the Gulf that are no longer in operation need to come out soon," Farrell said. "It's dangerous having them just melting away. In the past, we've had a few, significant salvage projects from vessels that allided with or struck submerged oil-platform legs."

Andre Franques said many removals are needed, particularly in Louisiana. "BSEE has worked with oil and gas producers and Louisiana's Dept. of Wildlife and Fisheries, which manages a rigs-to-reef program. Oil and gas companies take advantage of it for its cost savings and other benefits. They leave the jackets in the water to be used for reef for fish." Oil companies and a number of environmentalists support reef programs but only a fraction of the Gulf's discarded rigs have been reefed so far.

Franques insists, "In the past, oil companies could get away with leaving structures in the Gulf or could stretch out their removal costs for long periods of time. There was little accountability for abandoned structures. Obama has tried to clean that up. You don't leave junk to accumulate in your front yard at home and you don't want to leave in the Gulf either."

The BP spill changed the rules and heightened awareness about safety but didn't crush the spirit of those working on the coast. "I'm optimistic about Gulf oil and gas but it will have to adapt as activity and emphasis moves from shallow to deeper water," Bisso said. "That shift will take time. Even the newest deepwater leases sold in the most recent lease sale will take 10 to 15 years to develop." And that means that the offshore Gulf will continue to support local economies and provide meaningful jobs for qualified operators. It's a good news story for everyone.

+ (Published in the August 2012 edition of MarineNews - www.marinelink.com) +
Susan Buchanan is a New Orleans-based business writer, specializing in energy, maritime matters, agriculture, the environment and construction. She holds a master's degree from Cornell University in agricultural economics and an undergraduate degree from the University of Pennsylvania.