New Design Contract for Delamarin's Bulk Carriers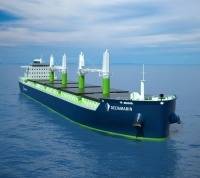 New design contract from Yangfan Group (China) for Deltamarin's B.Delta37 bulk carriers
Deltamarin has entered into a new contract with Yangfan Group (China) for the design of B.Delta37 Bulk Carriers to be built for d'Amico Societa di Navigazione S.p.A. who placed orders with the Chinese builder for a series of six fixed orders with options for six more vessels.
Deltamarin will procure the basic sesign, part of the detail design of the vessels and technical procurement handling and will also have a site team to ensure the continuity all along the design phases to the production.
The design is an amended version of the standard B.Delta37 design into an open hatch configuration.
The vessels will have the following main particulars:
Length over all 179.99 m

Beam 30.0 m

Scantling draft 10.5 m

Deadweight 38,500 metric tonnes

Cargo cubic 49,500 m3
The service speed at design draught is to be 14.0 knots and the model tested daily fuel oil consumption at design draft 17.9 tonnes, including 15 % sea margin, ISO conditions.
 The EEDI to be 21.6 % less than the requirements to come into force.
Design factors that enable such improvements to existing designs include a combination of hull form, propeller, rudder and main engine solutions.