M/V Harvey Blue-Sea Delivered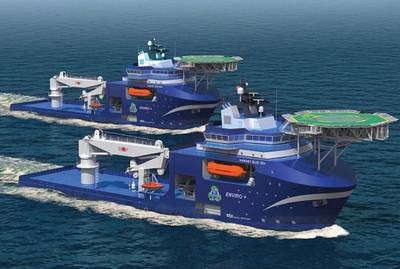 Harvey Gulf International Marine has taken delivery of M/V Harvey Blue-Sea, a new large capacity, Jones Act qualified multipurpose support vessel (MPSV) from Eastern Shipbuilding Group.
With the delivery of the 340-foot Harvey Blue-Sea, which follows sister vessel M/V Harvey Sub-Sea delivered in July 2017, Harvey Gulf said it now owns and operates the two largest U.S. flag construction vessels in the U.S. Gulf of Mexico.
Harvey Gulf describes the new sister MPSVs as "best in class" vessels with "the technical capabilities to efficiently, effectively and safely perform high quality field development activities." The vessels were both built by Eastern in Panama City, Fla. and feature size, crane capacity, deck space, accommodation, equipment and station keeping capability that exceeds other vessels in their class, Harvey Gulf said.
Like Harvey Sub-Sea, Harvey Blue-Sea is designed for a work scope including subsea installations and removals, inspection, repair and floatel services, and can also be equipped to lay cables and umbilicals as well as to perform well-intervention and hydrate remediation operations.
Aboard Harvey Blue-Sea is a 250-ton knuckle boom, active heave compensated crane equipped with 4,000 meters of wire. The crane's winch is below deck, which expands lifting capacity and enables loads of 107 metric tons to be delivered to water depths of 12,000 ft.
The Blue-Sea has 150 berths, all in one- or two-person rooms, 13,000 sq. ft. of deck space, a 24' x 24'moon pool and a S61 (Heavy) Helideck. The vessel meets ABS DP2, SPS Code and MLC 2006 certification requirements, among others.