Liftboat Jinshan 1 Delivered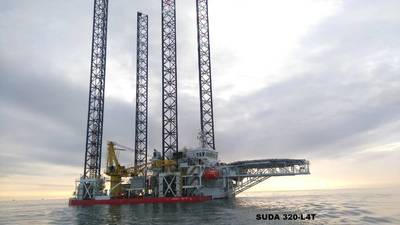 A 97.5m truss-legged liftboat designed by A. K. Suda (SUDA) has been completed and is being delivered to its owner, following on the heels of a 91.5m truss leg liftboat delivered earlier this year.

Built by Triyards Marine for Swissco Offshore, the new state-of-the-art vessel Jinshan 1 is a four-legged, self-propelled, self-elevating, general service liftboat based on the SUDA 320-L4T. It is ABS classed with Unrestricted Service, +A-1, + AMS. The hull dimensions are 55m x 35m x 4.5m. The quarters arrangement can accommodate 146 persons including crew. The SUDA 320-L4 also has a generous cargo deck area of 950 m2.

This Self-Elevating Unit is capable of working in water depths up to 75 m. It also has a CAP 437 heliport, capable of supporting a Sikorsky S76 or Bell 412 helicopter.