Two Mooring Tugs Delivered to NSW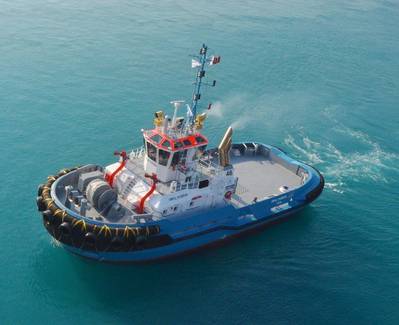 Nakilat Damen Shipyards Qatar (NDSQ) has delivered two new Qatari-built mooring tugs to towage operator Nakilat SvitzerWijsmuller (NSW).
The delivery of the two ASD 2810 tugs is part of a seven-vessel order that the yard is currently working on for NSW. The first of the new tugs, named Umm Al Shubrum, completed sea trials in Ras Laffan in mid-January 2015. She was followed in February by the second vessel, Al Kharsaah.
Both vessels will operate as part of Nakilat NSW's growing fleet. NSW currently operates more than 30 vessels and performs 12,500 tug jobs per year.
The new vessels will join NSW's existing vessels in the
Port of Ras Laffan
and will be put to use assisting ships entering and departing the port. The Damen ASD 2810, 28 meters long with a beam of 10 meters, has a bollard pull of 45 metric tons and can travel at a speed of 12.6 knots.
Niels Tinsfeldt, Managing Director of NSW, said, "The Nakilat Damen Shipyards' mooring tugs introduced to NSW represent a very agile and strong supplement to the tug fleet at the LNG Port in Ras Laffan."
The first two
Stan Tug 1606
mooring boats, Ras Al Allaj Qatar and Al Esaiwed, were delivered in August 2014.